IDW Doctor Who Volume 2 Issue 10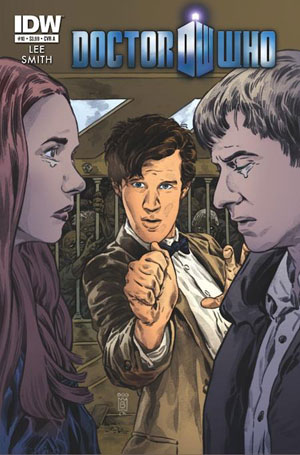 IDW Doctor Who Volume 2 Issue 10
Bodysnatchers: Part 1 of 2! Finding themselves inside an alien asylum, the Doctor, Amy, and Rory discover that many of the human patients within actually house the minds of some of the Doctor's most terrifying enemies! As the Doctor tries to work out who has done this hideous body swap, the inmates riot… and two characters will never be the same again!
IDW Publishing currently publishes a wide range of comic books and graphic novels including titles based on Angel, Doctor Who, GI Joe, Star Trek, Terminator: Salvation, and Transformers.
Full detail can be found at www.idwpublishing.com
You can buy issues on-line at the IDW Shop (some regional restrictions can apply) or you can buy digital versions of this and all previous graphic novels from www.idw.comixology.com.
You can also see previews of IDW graphic novels at www.issuu.com