IDW Doctor Who Volume 2 Issue 05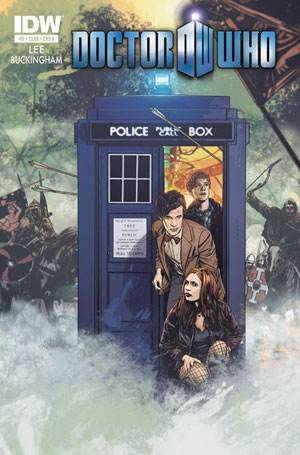 IDW Doctor Who Volume 2 Issue 05
En route for the World Cup final in 1966, the Doctor, Amy, and Rory find themselves in London a thousand years in the past!
And Vikings and Saxons are fighting over who owns the land—and Amy! Can Rory win his new wife back… in a penalty shootout?
This special issue features art by Eisner-winner Mark Buckingham of Miracleman and Fables fame.
IDW Publishing currently publishes a wide range of comic books and graphic novels including titles based on Angel, Doctor Who, GI Joe, Star Trek, Terminator: Salvation, and Transformers.
Full detail can be found at www.idwpublishing.com
You can buy issues on-line at the IDW Shop (some regional restrictions can apply) or you can buy digital versions of this and all previous graphic novels from www.idw.comixology.com.
You can also see previews of IDW graphic novels at www.issuu.com