IDW Doctor Who Annual 2012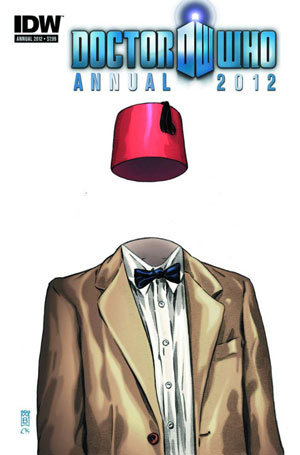 IDW Doctor Who Annual 2012
The Eleventh Doctor returns in this all-new Annual!
This oversized issue contains three complete stories by an all-star lineup, featuring legendary writer-editor Len Wein, Doctor Who novelist Richard Dinnick, and writer Tony Lee, with art by Matthew Dow Smith, and Mitch Gerads.
Also included is a prelude to the next ongoing series by series writer Andy Diggle and superstar artist Mark Buckingham!
IDW Publishing currently publishes a wide range of comic books and graphic novels including titles based on Angel, Doctor Who, GI Joe, Star Trek, Terminator: Salvation, and Transformers.
Full details can be found at www.idwpublishing.com
You can buy issues on-line at the IDW Shop (some regional restrictions can apply) or you can buy digital versions of this and all previous graphic novels from www.idw.comixology.com.
You can also see previews of IDW graphic novels at www.issuu.com