IDW Doctor Who Annual 2011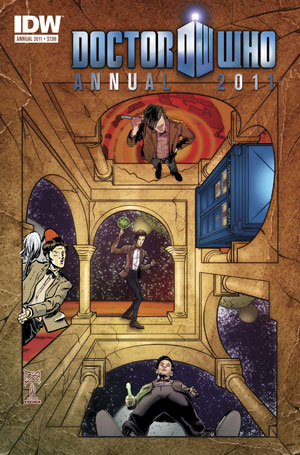 IDW Doctor Who Annual 2011
The Eleventh Doctor materializes in his first Annual!
This oversized issue contains three complete stories by an all-star lineup.
Featuring critically acclaimed Echoes writer Joshua Hale Fialkov & artist Blair Shedd, Doctor Who Magazine writer/artist Dan McDaid, and writer Matthew Dow Smith & artist Josh Adams.
Also included is a prelude to the next ongoing series story by series writer Tony Lee and superstar artist Ben Templesmith, continued in Doctor Who Issue 9!
IDW Publishing currently publishes a wide range of comic books and graphic novels including titles based on Angel, Doctor Who, GI Joe, Star Trek, Terminator: Salvation, and Transformers.
Full detail can be found at www.idwpublishing.com
You can buy issues on-line at the IDW Shop (some regional restrictions can apply) or you can buy digital versions of this and all previous graphic novels from www.idw.comixology.com.
You can also see previews of IDW graphic novels at www.issuu.com