IDW Doctor Who: A Fairytale Life Issue 1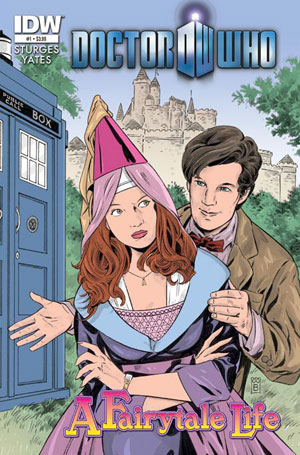 IDW Doctor Who: A Fairytale Life Issue 1
What's better: an ugly reality or beautiful fantasy? This is the question the Doctor is forced to confront in a medieval fantasy world where Amy finds herself reluctantly cast as a damsel in distress.
Matt Sturges, Eisner Award-nominated writer of Jack of Fables, spins this yarn, featuring covers by Mark Buckingham of Miracleman and Fables fame.
IDW Publishing currently publishes a wide range of comic books and graphic novels including titles based on Angel, Doctor Who, GI Joe, Star Trek, Terminator: Salvation, and Transformers.
Full detail can be found at www.idwpublishing.com
You can buy issues on-line at the IDW Shop (some regional restrictions can apply) or you can buy digital versions of this and all previous graphic novels from www.idw.comixology.com.
You can also see previews of IDW graphic novels at www.issuu.com