HMV limited edition Doctor Who carrier bag
HMV limited edition Doctor Who carrier bag
To celebrate Monday's release of 'Dr Who: Series 5, Volume 1' on DVD and Blu-ray – the first to feature Matt Smith as the new Doctor, HMV and 2Entertain have joined forces to produce a limited edition paper carrier bag, which will be available exclusively to HMV customers at selected stores around the country next week commencing 7 June 2010.
The full-colour carrier features Doctor Matt Smith and his assistant Amy Pond played by Karen Gillan on one side and a Dalek on the reverse, and is likely to prove a real hit with collectors and fans of the cult TV show. HMV stores are preparing for a rush from Monday morning, and the special loop-handled and reinforced bags measuring 43cm x 32cm will be given out with purchases of the new Dr Who DVD and Blu-ray as well as other titles on a first-come-first-served basis, whilst stocks last. As per standard HMV policy, customers can decline use of a bag if they do not require one.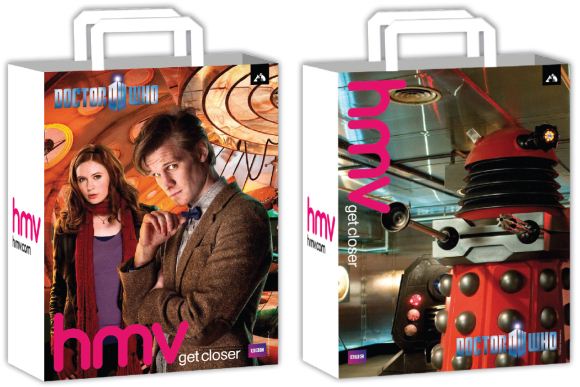 HMV Marketing Planner for DVD & Blu-ray, Ben Grunbaum, comments: "We love getting our customers closer to the music, film and games that they themselves love, and in recent years we've produced a number of limited edition papers bags featuring designs and images from the icons of today's popular culture – everyone from the likes of Madonna to Avatar. These have all proved a great hit and tend to get snapped up pretty quickly, but I imagine the Dr Who carriers will be our most popular ever design and won't be instore for too long. If you're not quick off the mark, you'll probably have to rely on time travel to bag one!"
Doctor Who: Series 5 Volume 1 on Blu Ray and DVD
A completely fresh look: bigger, better, more dramatic and shot in HD.
Matt Smith is the new Doctor, mercurial & energetic. Karen Gillan is Amy Pond the Doctor's new smart & sassy assistant.
Written by BAFTA winner Steven Moffat – writer of landmark episodes including The Empty Child, Blink and Silence in the Library.
This volume release contains episodes 1 -3 of the brand new series and promises more adventures and scary enemies as the New Doctor gets acquainted with his brand new Tardis and companion.
Featuring the hour long premiere episode plus special features…