Fans want to see Tardis in Olympic adventure
Doctor Who fans want to see TARDIS in Olympic adventure
From the BBC Worldwide press office…
For a machine capable of travelling through time and space in seconds, the 100 metres or high jump should be a breeze for the TARDIS, as a survey of Doctor Who fans reveals the place they would most like to see the time machine land is the Olympic Stadium, Stratford, London.
In a poll of 1,428 BBC Magazines readers, conducted for Doctor Who Adventures Magazine, 21% of respondents said the Olympic Stadium was the place they would most like to see the TARDIS land, beating off competition from the pyramids (13%), with music festival Glastonbury coming third with 11%. This was followed by next weekend's Royal Wedding (10%) and then the Silverstone Grand Prix (6%).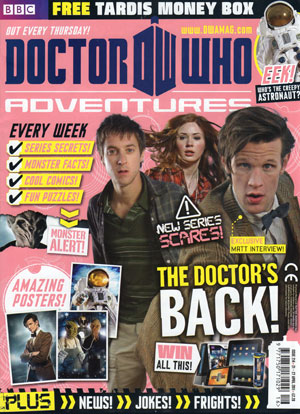 In this week's Doctor Who Adventures Magazine, on sale now, there is a free TARDIS money box to celebrate the return of the Time Lord to TV screens on Easter Saturday (BBC1, 6pm).
The magazine is launching a competition to get readers to take pictures of the TARDIS in the craziest place imaginable with the chance to win a Sony cyber-shot camera. The closing date for the competition is 18 May 2011. Full details can be found in this week's magazine.
Doctor Who Adventures sells 56,648 copies every week, making it the bestselling children's title in terms of retail sales value.
It is targeted at young boys and girls who love Doctor Who. The magazine immerses readers in the world of the Doctor, taking them on an adventure into time and space. It's full of monsters and creatures, excitement, action, adventure and humour and is a must-have for young fans of the successful BBC series.