Entertainment Weekly Doctor Who Cover
Entertainment Weekly Doctor Who Cover
You can order the magazine for UK Delivery by calling 1-813-979-6828 of to order in the USA go to www.subscription.ew.com
Doctor Who becomes first ever British TV show to appear on cover of America's iconic Entertainment Weekly
Doctor Who will once again make history on Friday 27 July when the world's longest running sci-fi television show features on the cover of influential US entertainment magazine, Entertainment Weekly. Incredibly, it will be the first British television show to command a spot on the cover, further highlighting Doctor Who's growing U.S. fan-base.
Entertainment Weekly was granted behind the scenes access to the cast of the upcoming series, and the cover story features interviews with Matt Smith, Karen Gillan, Arthur Darvill and Executive Producer Steven Moffat. This fantastic coup for the brand follows on from other notable shout-outs on The Late Late Show, Greys Anatomy and Criminal Minds.
Doctor Who Series 6 was the most watched series ever on BBC America, while the same series was also the most downloaded show on U.S. iTunes last year, eclipsing celebrated shows such as Mad Men and Glee.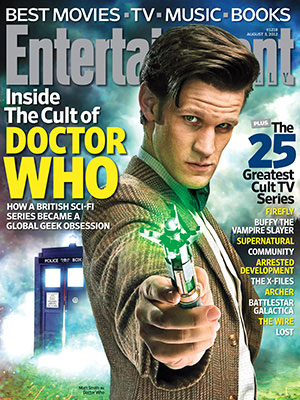 Entertainment Weekly Magazine
How do you know when a TV show has become a cult phenomenon? When its (often comparatively small) ratings are eclipsed by the wild ardor of its fans. Take the case of the British science fiction show Doctor Who, whose current lead, Matt Smith, is this week's cover star.
The now 49-year-old time Who is hugely popular in its homeland but has always enjoyed a more select appeal here — not that you know that from the devotion of U.S.-based "Whovians."
In 1983, 7,000 people attended a Doctor Who convention in Chicago and over the past couple of years the time-traveling "Doctor" has received a bordering-on-the-absurd number of onscreen shout-outs from Community, Criminal Minds, Craig Ferguson's The Late Late Show, Supernatural, and Grey's Anatomy, whose creator, Shonda Rhimes, describes herself as a "psychotic" follower of Matt Smith's time travel adventures in this week's cover story. "It's not an obscure show anymore," says executive producer Steven Moffat. "It's not even a 'British import.' It's just Doctor Who."
Read the full article and see information on this weeks magazine at www.ew.com