Electronic 11th Doctor Bobblehead Light-Up Sonic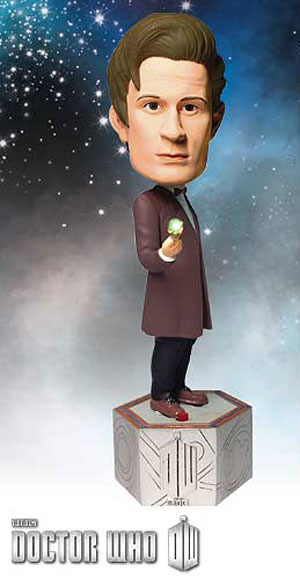 Electronic 11th Doctor Bobblehead Light-Up Sonic
For the first time ever, the eleventh incarnation of the time-traveling Doctor Who is all set to bobble his way through time and space and onto your desk or display shelf… just as actor Matt Smith prepares to depart the iconic sci-fi TV series!
Arguably the most popular Time Lord since Tom Baker's Fourth Doctor, the Eleventh Doctor appears here as a marvellously detailed resin bobble head that features an exceptional Matt Smith-approved likeness and an animated action pose, Sonic Screwdriver at the ready.
Showcasing his latest, most modern look, the 7-inch scale Doctor wears a mid-length purple-brown coat, light-grey shirt, and dark-grey bowtie.
But that's not all. The tip of his unique Sonic Screwdriver lights up with a green LED when the button on the base is activated! Even the Time Lord-centric base of the Doctor Who Electronic Eleventh Doctor Bobble Head is special. Covered with Gallifreyan language symbols pulled straight from the inside of the Eleventh Doctor's current time machine, this TARDIS-inspired creation is truly one of a kind!
The Doctor Who Electronic Eleventh Doctor Bobble Head comes in closed-box Doctor Who-themed packaging.

Available to order from www.forbiddenplanet.co.uk

If you are in the USA this item can be ordered from www.entertainmentearth.com