Dr Who & The Daleks CD Soundtrack

Available to order in the UK from www.amazon.co.uk

Available to order in the USA from www.amazon.com #ad
The long awaited soundtrack from Dr Who and the Daleks and Dalek Invasion Earth 2150AD starring Peter Cushing.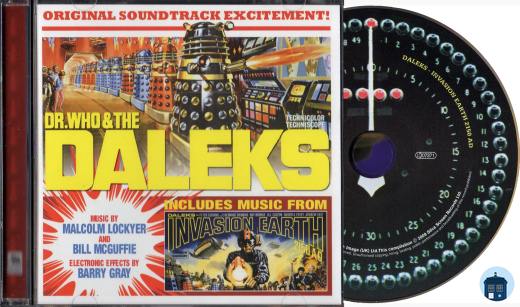 Dr. Who & The Daleks brought the legendary BBC sci-fi series to the cinematic big screen in glorious Technicolor and widescreen in Aug 1965, followed a year later by Daleks' Invasion Earth 2150 A.D.
Released for the first time on CD, here are the soundtracks to both films including sound effects, contemporary single releases and a 20 page inlay booklet.
This is packed with memorabilia including movie posters, detailed production notes and images from the two films. All in all a fascinating booklet.
Track Listing:
1. Fanfare And Opening Titles
2. TARDIS
3. The Petrified Jungle
4. The Petrified Creature And The City
5. Four Return To TARDIS
6. The Medicine Box And The Climb To The City
7. City Corridors
8. Captured By The Daleks
9. Susan Leaves The City
10. The Jungle At Night
11. Susan Returns To The City
12. Escape From The Cell
13. The Trap
14. The Swamp
15. The Mountain
16. The Cave
17. The Jump
18. The Thals Approach The City
19. The Countdown
20. The Countdown Stops
21. Finale And End Titles
Daleks' Invasion Earth 2150 A.D.
22. Smash And Grab
23. TARDIS Departs (Sound Effects)
24. Opening Titles
25. TARDIS (Sound Effects)
26. London 2150 A.D. (Music And Sound Effects)
27. Daleks And Robomen
28. Message To Grandfather And The Dalek Saucer Takes Off (Music And Sound Effects)
29. The Mine Workings And The Cottage
30. Preparing The Bomb Capsule (Music And Sound Effects)
31. Smash And Grab (Reprise) And End Titles
The Singles
32. The Eccentric Dr. Who
33. Daleks And Thals
34. Fugue For Thought
Dr. Who And The Daleks – Bonus Tracks
35. Fanfare And Opening Titles (Soundtrack Version With Effects)
36. TARDIS Effects
37. Dalek City Effects
The vibrant period scores written by Malcolm Lockyer and Bill McGuffie, have sections enhanced by electronic sounds created by Barry Gray, famed for his work with Gerry Anderson.
Lovingly restored from the vaults of Pinewood Studios, this project has been eagerly awaited for many years by Doctor Who and sci-fi fans.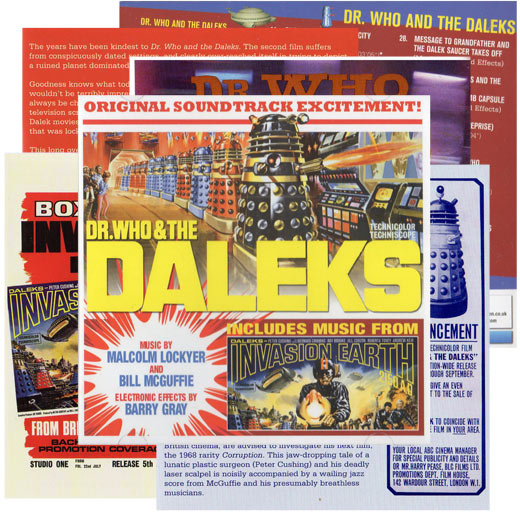 Above… Just a glimpse of the superb 20 page booklet and back cover included with the CD