Dr Who Figurine Collection Special 17 Minotaur

Available to order from www.shop.eaglemoss.com
---

The USA can usually order these when released from www.eaglemoss/usa.com
The monstrous Minotaur from the fantastic Eleventh Doctor adventure from 2011, The God Complex.
The Doctor, Rory and Amy arrive in what looks like a hotel, but everything about it is fake – and the Doctor is fascinated to find out why. Unfortunately, the answer is that it's a prison for a monstrous creature that feeds on faith, and if the Doctor doesn't break Amy's faith in him then she might become the latest victim of the Minotaur's strange appetite!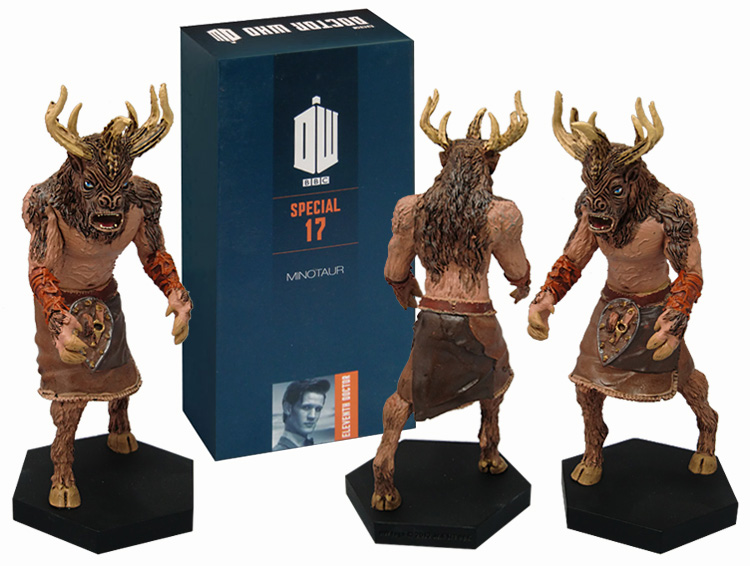 The mythical Minotaur has featured in Doctor Who no less than four times(we're including the Nimon!), but this latest version, designed by the brilliant monster makers at Millennium FX is by far the best. Standing at approximately 16cm tall, we have recreated the Minotaur figurine to specific standards, and our figurine is another essential addition to the ever-growing collection.
Plus: 20-page magazine featuring the horned creature that had once been treated like a god – but now was feeding on people's faith…!
---

Selected back issues are available in the UK from www.forbiddenplanet.com or www.shop.eaglemoss.com

Selected back issues are available in the USA from www.eaglemoss/usa.com