Dr Who Figurine Collection Console #4 The 12th Doctor
Available to order from www.shop.eaglemoss.com
Use our code WHOS12 on your basket page for 12% off
---
Also available to order from www.forbiddenplanet.com
Please note this does not come with the plastic casing as listed on the Eaglemoss site
The Twelfth Incarnation of Doctor brought back the original look of TARDIS console model as the next Special Edition of our Doctor Who Figurine Collection!
The Tardis Console Model: The Twelfth Doctor returns to the look of the original designs. Inspired by recent technologies such as the Hadron Collider, the new console feels more like a computer with six sides and no large clunky panels separating the panels like in the previous two designs. The central time rotor that moves the Tardis is much higher than in the original models as it connects the console with the roof of the console room.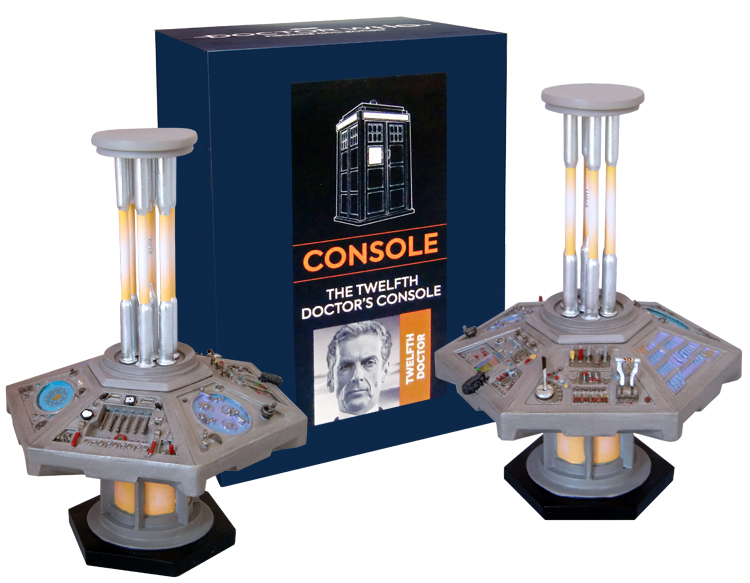 This Tardis Console Model: The Twelfth Doctor, made from a high-quality polyresin, meticulously recreates the console as seen in the Series Eight starring Peter Capaldi as the Twelfth Doctor. The model was carefully hand-painted to capture the darker grey colour of the console and every button, switch and panel that brings to life the console that served the Doctor until his reincarnation as Thirteenth Doctor in Series Eleven.
Product Features:
The console measure approx 16.5 cm tall
Material: Metallic Resin, carefully produced in 1:21 scale
Hand-painted for incredible detail
Great gift for Doctor Who fans
The Tardis Console Model comes complete with a magazine detailing this console's place in history, its functionality and use in the adventures.