Dr Who Figurine Collection #6 Dalek
Dr Who Figurine Collection #6 Dalek
Celebrate 50 years of Doctor Who this fantastic new figurine collection. The series draws from every era show and includes all eleven versions of the Doctor plus his greatest monsters.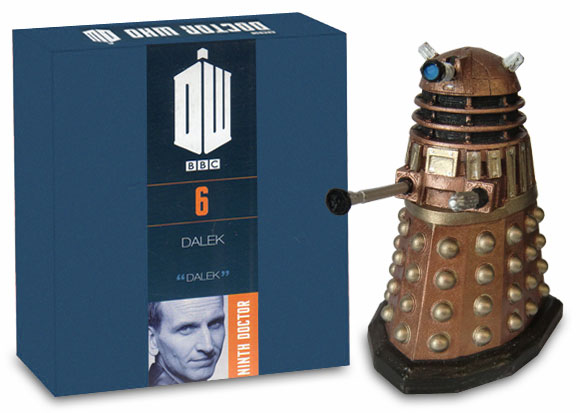 All the figurines are carefully produced in 1:21 scale, and cast in a specially formulated metallic resin before being painted by hand and individually numbered.
The specially formulated resin and high quality sculpting allow the figurines to reproduce an incredible level of detail right down to the mesh in the Silurian Warrior's uniform and the controls on Davros's console.
Each figurine recreates a specific moment from the TV series in loving detail and every sculpt is based on detailed study of the original production photography, props and drawings.
The collection features several different versions of the Daleks and Cybermen allowing you to trace their evolution over the years.
This is the definitive Doctor Who figurine collection.
---
A brand new fortnightly collection from Eaglemoss Publications
Key facts…
launched on Wednesday, 28th August 2013
Currently 80 Figurines are planned
Includes all 11 (12?) Doctors
First Issue £2.99
Subsequent Standard Issues £6.99
Subsequent Upgrade Issues (subscribers Only) £7.99 to obtain the Dalek (7) Collection
Every 2 Weeks in the Shops
Two Issues delivered every 4 weeks if you subscribe
Subscribers only Will Get Emperor Dalek, Digital edition, One Stand and Binder
Subscribers can automatically receive further display plinths at £14.99 each every 10 issues
Subscribers can automatically receive binders every 16 issues at £6.99 each
Wherever possible, your FREE subscription gift(s) will be packaged and sent along with your copies, as follows:
Binder – In your second shipment
Display Stand – In your third shipment
Giant Dalek Figurine – In your fifth shipment
Digital Edition – Extra Gift available to current subscribers
Every 10 issues, one Dalek will be included with your standard subs delivery" " You will start paying the extra £1.00p from issue 2 onwards, if you start your subscription at a later issue you just have to pay an additional £1.00p per issue for the issues you have missed.
Please check www.dw-figurines.com for more information or visit their facebook page.