Dr Who Figurine Collection #117 Omega

You can also usually order these when released from www.shop.eaglemoss.com

You can also usually order these when released from www.eaglemoss/usa.com
This highly detailed, hand painted figurine depicts Omega as he is seen in the 1983 Peter Davison Adventure 'Arc of Infinity', and shows the compatriot of Rassilon in his gold and black floor length cloak, chunky black boots, patterned jump suit, and his oozing alien head.
In the accompanying lavishly illustrated magazine, more of your Doctor Who questions are answered, plus go behind the scenes of this iconic Doctor Who adventure.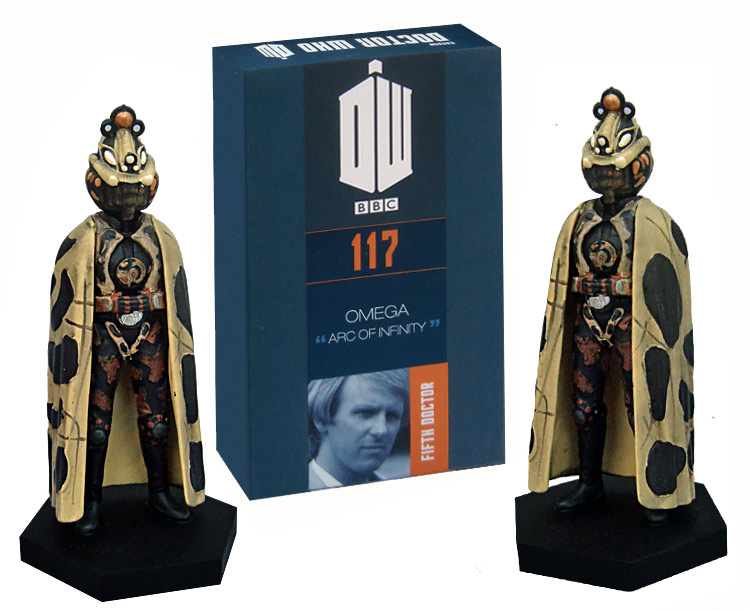 All the figurines are carefully produced in 1:21 scale, and cast in a specially formulated metallic resin before being painted by hand and individually numbered. The specially formulated resin and high quality sculpting allow the figurines to reproduce an incredible level of detail right down to the mesh in the Silurian Warrior's uniform and the controls on Davros's console.
Each figurine recreates a specific moment from the TV series in loving detail and every sculpt is based on detailed study of the original production photography, props and drawings.
The collection features several different versions of the Daleks and Cybermen allowing you to trace their evolution over the years. This is the definitive Doctor Who figurine collection.
Please check www.dw-figurines.com for more information or visit their facebook page.

Selected back issues are available in the UK from www.forbiddenplanet.com or www.shop.eaglemoss.com

Selected back issues are available in the USA from www.eaglemoss/usa.com