Dr Who Figurine Collection #116 Patient

You can also usually order these when released from www.shop.eaglemoss.com

You can also usually order these when released from www.eaglemoss/usa.com
The Doctor Who Figurine Collection part 116 features a pre-conversion Patient as they appear in the 2017 episode 'World Enough and Time'.
Seemingly unseeing, attached to a strange drip-feed, wearing medical gowns, with rubber-covered hands, legs and feet. They are the nightmare before the Cybermen, pity-inducing with their cries of "Pain. Pain. Pain," and "Die. Me," and just as terrifying.
This highly detailed, hand-painted figurine comes complete with a magazine that goes behind the scenes for this terrifying Twelfth doctor tale, plus Matt Lucas and Doctor Who in 2014.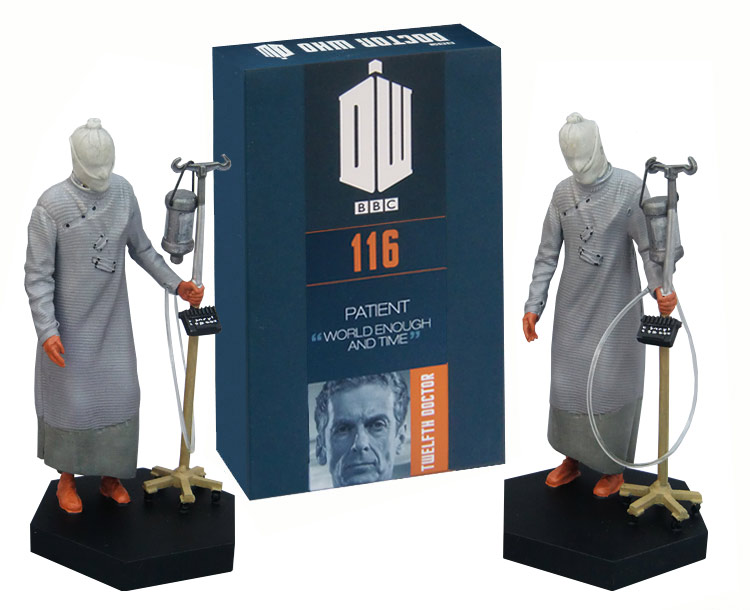 All the figurines are carefully produced in 1:21 scale, and cast in a specially formulated metallic resin before being painted by hand and individually numbered. The specially formulated resin and high quality sculpting allow the figurines to reproduce an incredible level of detail right down to the mesh in the Silurian Warrior's uniform and the controls on Davros's console.
Each figurine recreates a specific moment from the TV series in loving detail and every sculpt is based on detailed study of the original production photography, props and drawings.
The collection features several different versions of the Daleks and Cybermen allowing you to trace their evolution over the years. This is the definitive Doctor Who figurine collection.
Please check www.dw-figurines.com for more information or visit their facebook page.

Selected back issues are available in the UK from www.forbiddenplanet.com or www.shop.eaglemoss.com

Selected back issues are available in the USA from www.eaglemoss/usa.com