Doctor Who – Winter Specials DVD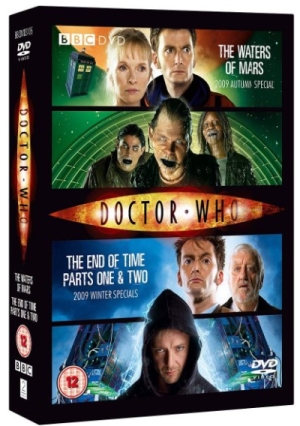 Doctor Who: The Winter Specials Box Set – The Waters Of Mars and The End Of Time
Join the Doctor and his companions in this double pack which includes, Waters of Mars and The End of Time parts one and two
The Waters of Mars: The Waters of Mars welcomes Lindsay Duncan as the Doctor's cleverest and most strong-minded companion. The Waters of Mars is a dark, scary thriller that sees the Doctor land on the planet Mars, at a base in peril. A creeping infection beneath the Martian surface threatens not only the human race, but also the Doctor's most fundamental beliefs. Together with Adelaide Brooke – the base's commander – the Doctor must stop a seemingly unstoppable menace before it can reach Earth, and wipe out mankind.

The End of Time: Part One: Join the Tenth Doctor for his final journey in The End of Time Parts One and Two, when his psychotic nemesis the Master has been reborn, on Christmas Eve. With both determined to cheat death, the battle ranges from the wastelands of London to the mysterious Immortality Gate, while the alien Ood warn of an even greater danger approaching, as a terrible shadow falls across the entire Universe.
The End of Time: Part Two: The Doctor faces the end of his life as the Master's plans hurtle out of control. With the sound of drums growing louder, and an ancient trap closing around the Earth, the Doctor and Wilf must fight alone. But sacrifices must be made, and the deadly prophecy warns: "He will knock four times."
Includes Doctor Who Confidential.
Release on 11/01/2010