Wave of Destruction LP Sainsbury's Exclusive – Store List
New Doctor Who vinyl out today!
Sainsbury's brings the Fourth Doctor, Romana and K-9 to vinyl – and Big Finish is delighted to have another exclusive release out in Sainsbury's today.
Hot off the press, Sainsbury's has just launched Doctor Who: Wave of Destruction starring Tom Baker, Lalla Ward and John Leeson. It is a Limited Edition run of 1500 copies on ocean swirl vinyl – only available in Sainsbury's stores across the UK.
In this full-cast audio drama from 2016, the Vardans return to take on Tom Baker's Fourth Doctor. The Doctor had previously encountered the Vardans on Gallifrey, the Doctor's home planet, in the 1978 television story, The Invasion of Time.
A modulated frequency wave cancellation signal isn't something that the Doctor and Romana expect to detect in 1960s London. But then they don't expect to find Professor Lanchester, the man who invented it, lying unconscious. Or MI5 investigating. With the help of MI5 Agent Miller; Lanchester's daughter Jill; and his nephew – a pirate radio DJ called Mark; the Doctor, Romana and K-9 investigate. They soon discover that there is more at risk than they imagined, and an alien invasion is about to begin. Can the Doctor identify and defeat the aliens in time? Will Romana manage to find a recombinant transducer before it's too late? And how will K-9 cope with his new job?
Tom Baker portrayed the Doctor on screen from 1974 until 1981 returning to star alongside Matt Smith, David Tennant and John Hurt as the curator in the 50th anniversary TV special, The Day of the Doctor, in 2013.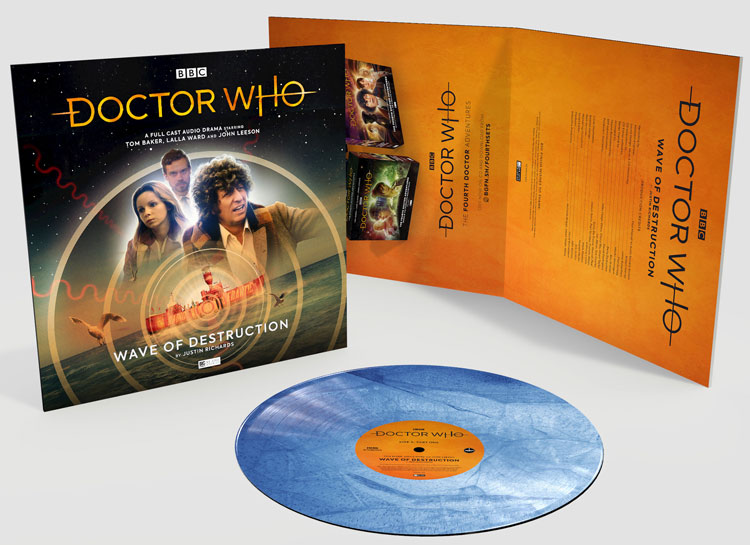 John Leeson was first brought in as the voice of K-9 – the Fourth Doctor's robot dog – for the 1977 TV story, The Invisible Enemy. After a short break John returned for season 18 of Doctor Who in 1980. He also reprised his role as K-9 in the pilot TV episode for K-9 and Company (1981 – a spin-off from Doctor Who) and voiced K-9 for the 20th anniversary TV episode of Doctor Who, The Five Doctors and the 2006 Doctor Who TV episode, School Reunion.
Lalla Ward made her debut as Romana in December 1979, and after almost three series she made her last appearance alongside John Leeson in January 1981.
Of this special vinyl release, Lalla Ward said: "Recording Wave of Destruction was an absolute delight and I'm very pleased that we've made it onto a record. Romana is used to running circles around the Doctor so she'll be right at home on the turntable."
Wave of Destruction, written by Justin Richards, is the first story of the fifth series of The Fourth Doctor Adventures, produced by Big Finish Productions.
Big Finish Productions is a production company and publisher who produce audio CDs, downloads and books. Best known for its range of Doctor Who plays (with its many spin-offs), Big Finish also produces a wide range of audio drama and audiobooks featuring the characters from Blake's 7, Dark Shadows, Captain Scarlet, Callan, The Avengers, The Prisoner, Survivors and The Omega Factor, as well as classics such as HG Wells, Shakespeare, Sherlock Holmes, The Phantom of the Opera and Dorian Gray. They also produce original creations such as Graceless, Charlotte Pollard and The Adventures of Bernice Summerfield, plus the Big Finish Originals range featuring seven great new series including ATA Girl, Cicero, Jeremiah Bourne in Time, Shilling & Sixpence Investigate and Blind Terror.
CDs and downloads are available from the Big Finish website www.bigfinish.com
Wave of Destruction succeeds with flying colours, offering laughs, thrills and in-jokes in equal succession. Justin Richards' script sparkles throughout, and the cast is on top form, particularly Baker and Ward, who are once again at the height of their power. Starburst
Highly reminiscent of the Douglas Adams era of the show… a humorous, and often laugh out loud funny, uplifting 'tribute' to the sixties… Tom Baker and Lalla Ward are, as you'd expect, superb, falling into character with consummate ease… It's a groovy tale that's got the lot, adventure, excitement, monstrous moustache-twirling villains, a fast, ferociously paced, involving plot… Tim Mass Movement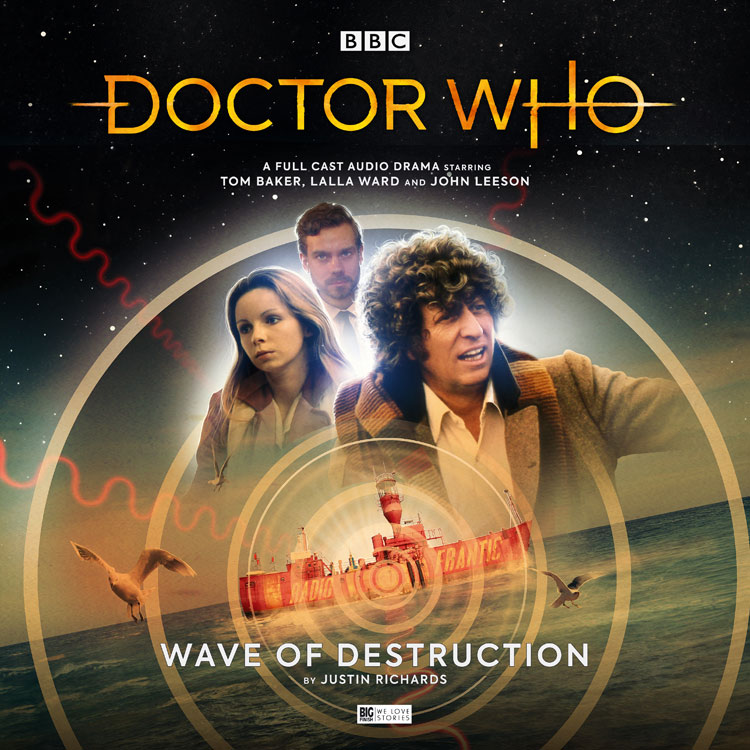 ---
Stockists list:
Aberdeen Berryden Retail Park AB25 3SA
Alnwick Willowburn Avenue NE66 2JH
Alton Draymans Way GU34 1SS
Armagh The Mall West BT61 9AJ
Arnold Sir John Robinson Way NG5 6BN
Ashbourne Coopers Mill DE6 1DA
Ashford Simone Weil Avenue TN24 8YN
Ashton Under Lyne 2 Lord Sheldon Way OL6 7TE
Attleborough High Street NR17 2EH
Aylesford Mills Road ME20 7NA
Balham 149 – 151 Balham High Road SW12 9AU
Ballymena Unit 1 Braid Water Retail Park BT42 3AG
Banbury Oxford Road OX16 9XA
Bangor Balloo Retail Park Balloo Link BT19 7HJ
Barkingside 92 – 100 Tanners Lane IG6 1QE
Barnstaple Roundswell District Centre EX31 3NH
Basildon Cricketers Way SS13 1SA
Basingstoke Wallop Drive RG22 4TW
Bath Green Park Station BA1 2DR
Bath Frome Road BA2 5RE
Beckton 1 Claps Gate Lane E6 6JF
Bedford 90 Clapham Road MK41 7PJ
Belfast Unit 14A Forestside Shopping Centre BT8 6FX
Belfast Airport Road BT3 9EJ
Belfast Kennedy Centre BT11 9AE
Benfleet 21 Stadium Way SS7 3NZ
Bicester 23 Crown Walk OX26 6HY
Biddulph New Wharfe Road ST8 7PJ
Biggleswade Bells Brook SG18 0NA
Birkenhead 342A Woodchurch Road CH42 8PQ
Birmingham 1059 Alcester Road South B14 5TN
Birmingham 545 Stratford Road B90 4AJ
Birmingham 30 Mere Green Road B75 5BT
Birmingham 2 High Street B31 2UQ
BISHOP AUCKLAND St Helen Auckland DL14 9SX
Bishops Stortford 1 The Thorley Centre CM23 4EG
Bishops Stortford 16 Jackson Square Shopping Centre CM23 3XQ
Blackpole Windermere Drive WR4 9JN
Blackpool Redbank Road FY2 9HH
Blackpool Talbot Road FY1 3AJ
Bognor Regis Shripney Road PO22 9NF
Bolton Cricketers Way BL5 3RD
Bolton Trinity Street BL3 6DH
Bourne Exeter Road PE10 9NJ
Bournemouth Castle Lane West BH8 9UW
Bracknell 7 Princess Square RG12 1LS
Bracknell Ringmead RG12 7SS
Bradford 760 Harrogate Road BD10 0QF
Braintree 1 Tofts Walk CM7 1XH
Brentwood 51 William Hunter Way CM14 4WQ
Bretton Flaxland PE3 8DA
Bridgend Yr Dderwen CF32 9ST
Bridgnorth Whitburn Street WV16 4QN
Bridgwater The Clink TA6 4AB
Brighton 361 – 367 Old Shoreham Road BN3 7GD
Bristol 13 Kingschase Shopping Centre BS15 8LP
Bristol Emersons Way BS16 7AE
Bristol 111 Winterstoke Road BS3 2NS
Bristol Fox Den Road BS34 8SS
Bristol 48-56 Queens Road BS8 1RE
Bromley Pallant Way BR6 8NZ
Bude Crooklets Road EX23 8ND
Burnley Active Way BB11 1BS
Burton On Trent Union Street DE14 1AA
Bury St Edmunds Bedingfeld Way IP32 7EJ
Calne The Pippin SN11 8JG
Camberley Blackwater Valley Road GU15 3YN
Cambridge Brooks Road CB1 3HP
Camden 17-21 Camden Road NW1 9LJ
Cannock Orbital Centre WS11 8XP
CANVEY ISLAND Furtherwick Road SS8 7AD
Cardiff Colchester Avenue CF23 9XN
Cardiff Excalibur Drive CF14 9BB
Carlisle Church Street CA2 5TF
Carrickfergus 1 Rogers Quay BT38 8BE
Castle Vale Chester Road B35 6HB
Chafford Hundred Burghley Road RM16 6YJ
Chatham 68-72 The Pentagon Centre ME4 4HP
Cheadle Wilsmlow Road. SK8 3BB
Chelmsford 2 White Hart Lane CM2 5PA
Cheltenham Tewkesbury Road GL51 9RR
Chesham Elgiva Lane HP5 2YA
Chester Caldy Valley Road CH3 5QJ
Chesterfield Rother Way S41 0UB
Chichester Westhampnet Rd PO19 7YR
Chingford 11 Walthamstow Avenue E4 8ST
Chippenham Bath Road SN14 0BJ
Christchurch 1 Lyndhurst Road BH23 4RY
Clitheroe Moor Lane BB7 1BE
Cobham Bridge Way KT11 1HW
Colliers Wood 1 Merton High Street SW19 1DD
Colne Grove Mills BB8 9JH
Coventry 330 Fletchampstead Highway CV4 9BJ
Coventry Austin Drive CV6 7NS
Craigavon 1 Rushmere Shopping Centre BT64 1AA
Cramlington Dudley Court NE23 6RT
Cranleigh 144 – 158 High Street GU6 8RF
Crawley Crawley Avenue RH10 8NF
Croydon 2 Trafalgar Way CR0 4XT
Darlington 150 Victoria Road DL1 5JG
Dartford Stadium Way DA1 4HW
Dartford Priory Center DA1 2HS
Darwen Hardman Way Darwen BB3 2AD
Dawlish Shutterton Bridge EX7 0NH
Deal 36 – 38 West Street CT14 6AH
Derby The Sidings DE21 6NZ
Derby 1 Peak Drive DE24 8EB
Derby Copecastle Square DE1 2AZ
Devizes Monday Market Street SN10 1DN
Didcot The Orchard Centre OX11 8RG
Doncaster Thorne Road DN2 5PS
Dronfield Wreakes Lane S18 1PN
Drumchapel 20 – 22 Allerdyce Drive G15 6RX
Dundee Baldovie Road DD4 8UG
Dungannon Oaks Centre BT71 4NA
Dunstable 2 – 8 Luton Road LU5 4RF
Durham Arnison Retail Centre DH1 5GD
Dursley Castle Street GL11 4BS
East Dulwich 80 Dog Kennel Hill SE22 8BB
East Grinstead Brooklands Way RH19 1DD
East Kilbride 3 Kinsgate Retail Park G74 4UN
East Kilbride 120 Olympia Centre G74 1LX
Eastbourne Broadwater Way BN22 9PW
Edinburgh Cameron Toll Shopping Centre EH16 5PB
Edinburgh 185 Craigleith Road EH4 2EB
Edinburgh 9 -10 St Andrews Square EH2 2AF
Edinburgh 39 Westfield Road EH11 2QW
Ellesmere Port Kinsey Road CH65 9HN
Eltham 1A Phiiport Path SE9 5DL
Ely Lisle Lane CB7 4AS
Enfield 3 Crown Road EN1 1AJ
Epsom Kiln Lane KT17 1EQ
Exeter 1 Hill Barton Road EX1 3PF
Exeter Alphington Road EX2 8NH
Fareham Wallington Way PO16 8SU
Farnborough 6 Queensmead GU14 7AL
Farnham Water Lane GU9 9NJ
Ferndown 597 Ringwood Road BH22 9AL
Folkestone Park Farm Industrial Estate CT19 5GA
Folkestone 5 Bouverie Road West CT20 2RX
Frome Wessex Fields BA11 4DH
Gateshead Eleventh Avenue NE11 0JY
Gillingham Hempstead Valley Shopping Centre ME7 3PB
Glasgow 10 Darnley Mains Roadand G53 7RH
Gloucester Barnett Way GL4 3RT
Gloucester St Ann Way GL2 5SA
Godalming Woolsack Way GU7 1LQ
Golden Way Unit 24 M41 0NA
Grantham London Road NG31 6HJ
Great Yarmouth St Nicholas Road NR30 1NN
Grimsby Corporation Road DN31 1UF
Guildford Clay Lane GU4 7JU
Halifax Wade Street HX1 1SB
Hampton 303 Uxbridge Road TW12 1AW
Harlow Fith Avenue CM20 2AG
Harringay Williamson Road N4 1UJ
Harrogate Wetherby Road HG2 8QZ
Hastings John Macadam Way TN37 7SQ
Haverhill Haycocks Road CB9 7YL
Hayes Lombardy Retail Park UB3 3EX
Haywards Heath Market Place RH16 1DG
Hazel Grove 33 London Road SK7 4AW
Heaton Heaton Park Road M9 0QS
Hedon Hull Road HU12 8DJ
Hemel Hempstead London Road HP3 9QZ
Hendon Unit 4 Hyde Estate Road NW9 6JX
Hereford Barton Yard HR4 0AG
High Wycombe Oxford Road HP11 2DN
HINCKLEY 20 Rugby Road LE10 0QD
Hoddesdon Brewery Road EN11 8HF
Hornchurch 95 – 101 Highand Street RM11 1TX
Horsham 7 Worthing Road RH12 1SQ
Huddersfield Southgate HD1 6QR
Huddersfield 22 – 24 Market Street HD1 2ET
Hull Sainsbury Way HU13 9NS
Huntingdon St Germain Walk PE29 3FG
Hythe Military Road CT21 5BH
Ilford 55 Roden Street IG1 2AA
Ipswich Felixstowe Road IP3 8TQ
Ipswich 40 Hadleigh Road IP2 0BX
Ipswich 38/40 Upper Brook St IP4 1DR
Irvine Ayr Rd KA12 8BH
Islington 31 – 41 Liverpool Road N1 0RW
Keighley Cavendish Street BD21 3RU
Kempston 252 – 274 Bedford Rd MK42 8AY
Kendal Kendal Rugby Club LA9 6DL
Kenton Kenton Road HA3 0BU
Kidbrooke Village Unit 3, 13 Peglar Square SE3 9FW
Kidderminster 2 Carpet Trades DY11 6XP
Kidlington 289 Oxford Road OX5 2PE
Kimberley Main Street NG16 2LY
Kings Lynn 15 – 23 St Dominics Square PE30 1DS
Kings Lynn Hardwick Ind Est PE30 4LR
Kirkcaldy Fife Retail Park KY2 6TS
Ladbroke Grove 2 Canal Way W10 5AA
Lancaster Cable Street LA1 1HH
Leeds White Rose Shopping Centre LS11 8LS
Leeds Stile Hill Way LS15 9JA
Leeds Moor Allerton Centre LS17 5NY
Leek Macclesfield road ST13 8LD
Leicester Grove Farm Triangle LE19 1WT
Leicester 501 Melton Road LE4 7SJ
Leigh Leigh Altherleigh Way WN7 5SJ
Letchworth Garden City 3Rd~Avenue SG6 2HX
Leven Riverside Road KY8 4PS
Lincoln Tritton Road Lincoln LN6 7QN
Linlithgow Gallowsknowe EH49 7PE
Liphook Midhurst Road GU30 7TW
Lisburn Sprucefield Park BT27 5UJ
Liverpool 112 East Prescot Road L14 5PT
Liverpool Cavandish Drive L9 1NL
Livingston Almondvale Retail Park EH54 6RQ
Loanhead Straiton Mains EH20 9PW
London 1 Cooke Close SE2 9BW
London Charlton Riverside Place SE7 7FA
London 27 Townmead Road SW6 2GD
London 62 Wandsworth Road SW8 2LF
Londonderry Meadowbank BT48 7TL
Loughton Old Station Road IG10 4PE
Luton 34 Dunstable Road LU1 1DY
Luton Quantock Rise LU3 4AB
Macclesfield 61 Cumberland Street SK10 1BJ
Maidenhead Lake End Road SL6 0QH
Maidstone Romney Place ME15 6SF
Manchester Oldham Road M34 3SJ
Manchester 347 Wilmslow Road M14 6SS
Mansfield Nottingham Road NG18 1BW
March Millview PE15 8SY
Market Harborough Springfield Street LE16 7DR
Matlock Cawdor Quarry DE4 3SP
Melksham Bath Road SN12 6LL
MELTON MOWBRAY Nottingham Road LE13 0UL
MILDENHALL Recreation Way IP28 7HG
Milton Keynes 799 Witan Gate MK9 2NW
MORECAMBE Christie Park LA4 5TJ
Nairn Balmakeith Retail Park IV12 5QW
Nantwich Middlewich Road CW5 6PH
Newbury Kings Road RG14 5AB
Newcastle Under Lyme Liverpool Road ST5 2SJ
Newcastle Upon Tyne Etherston Avenue NE7 7JW
Newhaven Newhaven Harbour BN9 0AG
Newport 3 Foxes Road PO30 5ZB
Newport Newbridge Industrial Estate NP12 2AN
Newport Albany Street NP20 5NG
Newquay Fore Street TR7 1NF
Newry The Quays BT35 8QS
Newton Abbot Keyberry Road TQ12 1BN
North Cheam 566 London Road SM3 9AA
North Walsham Bacton Road NR28 0DB
Northampton 20 Gambrel Road NN5 5DG
Northfield Frankly Beeches Road B31 5AA
Northfleet Wingfield Bank DA11 8JH
Northwich Venables Road CW9 5RT
Norwich 1 Brazen Gate NR1 3RX
Norwich Pound Lane NR7 0SR
Norwich William Frost Way NR5 0JS
Nottingham Castle Bridge Road NG7 1GX
Nuneaton Vicarage Street CV11 4XS
Oldbury Freeth Street B69 3DB
Oldham 60 Union Street OL1 1DJ
Oswestry Blackgate Street SY11 2EF
Oxford Heyford Hill Store OX4 4XR
Paignton Brixham Road TQ4 7PE
Penrith Southend Road CA11 7HA
Penzance Eastern Green TR18 3AP
Peterborough 116 Oxney Road PE1 5NG
Plymouth Plymouth Road PL3 6RL
POCKLINGTON South West Side Of The Balk YO42 2GG
Pontypridd Brown Lennox Retail Park CF37 4DA
Poole 4 Alder Park BH12 4BA
PORTISHEAD Serbert Way BS20 7GA
Portsmouth Fitzherbert Road PO6 1RR
Portsmouth 315 Commercial Road PO1 4BS
Preston Flintoff Way PR1 6PJ
Preston Cuerden Way PR5 6BJ
Prestwick Ayr Road KA9 1TR
Ramsgate Thanet Westwood Cross CT12 5FJ
Reading Bath Road RG31 7SA
Redditch Abbey Retail Park B97 6RF
Renfrew Unit J Braehead Retail Park G51 4BT
Rhyl Rhuddlan Road LL18 2TP
Ripley Nottingham Road DE5 3QP
Ripon 5 Market Place HG4 1BP
Romford 1 – 15 The Brewery RM1 1AU
Rowley Regis Halesowen Street B65 0HF
Rugby 385 Dunchurch Road CV22 6HU
Salford 100 Regent Road M5 4QU
Salisbury 33 The Maltings SP1 1BD
Scarborough Gallows Close YO12 5EA
Scunthorpe The Old Showground DN15 7RQ
SELBY 18 Abbey Walk YO8 4DZ
Selly Oak 12 Selly Oak Shopping Park B29 6SQ
Sevenoaks Otford Road TN14 5EG
Sheffield Archer Road S8 0TD
Sheffield Lower Mall S20 7PQ
Sheffield Claywheels Lane S6 1LY
Sherborne Ludbourne Road DT9 3ND
Shrewsbury Meole Brace Retail Park SY3 9NB
Sittingbourne Roman Square ME10 4DN
Slough Uxbridge Road SL1 1SW
Solihull 11 Poplar Way B91 3BX
South Norwood 122 Whitehorse Lane SE25 6XB
Southampton 1 District Centre SO16 8HY
Southampton Tollbar Way SO30 2UH
Southampton 414 Bitterne Road SO18 5RS
Southampton 1 Redcarr Street SO15 5LL
Southampton Portswood Road SO17 2LB
Southend On Sea 45 London Road SS1 1PL
Spalding Holland Market Retail Park PE11 1DA
St Albans Barnet Road AL2 1BG
St Albans Everard Close AL1 2QU
Stafford Chell Road ST16 2TF
Stanway 1 Western Approach CO3 8RH
Stevenage Poplars SG2 7DU
Stevenage Hitchin Road SG1 4AE
Stirling Drip Road FK8 1RA
Stockton On Tees Bishopton Road West TS19 0QB
Stoke On Trent Etruria Road ST1 5SA
STOKE-ON-TRENT Minton House ST4 7QD
Stourbridge Sandringham Way DY5 3JR
Street Gravechon Way BA16 0HS
Stroud Dudbride Road GL5 3HG
Sudbury 66 Cornard Road CO10 2XB
Sunderland Silksworth Lane SR3 1PD
Sunderland Riverside Road SR5 3JG
Sutton 287A High Street SM1 1LD
Swadlincote Civic Way DE11 0AD
Swansea Quay Parade SA1 8JA
Swindon Ashwoth Road SN5 7AA
Swindon Oxford Road SN3 4EW
Swindon 4 Brunel Plaza SN1 1LF
Sydenham Southend Lane SE26 4PU
TADLEY 30A Mulfords Hill RG26 3JE
Tamworth Bonehill Road B78 3HD
Taunton Billet Street TA1 3NE
Taunton Heron Gate TA1 2LR
Telford Telford Forge Retail Park TF3 4AG
Thetford London Road IP24 3QL
Tonbridge Angel Centre TN9 1SF
Torquay Nicholson Road TQ2 7HT
Tottenham 28-48 Northumberland Park N17 0TX
Trowbridge Conigre BA14 8PB
Truro Treyew Road TR1 3XL
Tunbridge Wells Linden Park Rd TN2 5QL
Victoria 99 Wilton Road SW1V 1DT
Wakefield Lower Trinity Walk WF1 1QQ
Wakefield 50 Ings Road WF1 1RS
Wallington 2 Stafford Road SM6 9AA
Walsall Reedswood Way WS2 8XA
Walthamstow 112 High Street E17 7JY
Walton On Thames 53 New Zealand Avenue KT12 1AD
Wandsworth 45 Garrett Lane SW18 4AD
Wantage Limborough Road OX12 9AJ
Warlingham 631 Limpsfield Road CR6 9DY
Warrington 100 Church Street WA1 2TN
Warwick Shires Retail Park CV34 6RH
Washington Galleries Shopping Centre NE38 7RU
Waterloovile Hambledon Road PO7 7UL
Wednesfield Rookery Street WV11 1UP
Wellingborough 260 Northampton Road NN8 3GZ
Welwyn Garden City 44 Church Road AL8 6PS
West Sussex New Road BN16 3RT
West Wickham 163-164 Wickham High Street BR4 0LU
Weston Super Mare North Worle Centre BS22 6BL
Weymouth Mercery Road DT3 5HJ
Whitby Stainsacre Lane YO22 4NL
Whitchurch London Road SY13 1LW
Whitechapel 1 Cambridge Heath Road E1 5SD
Whitley Bay Newsteads Drive NE25 9EX
Whitstable Reeves Way CT5 3QS
Wigan Worthington Way WN3 6XE
Wimbledon 8-12 Worple Road SW19 4DD
Winchester 1 Badger Farm Road SO22 4QB
Wirral Upton By Pass CH49 5LW
Witney Witan Way OX28 4FF
Woking Redding Way GU21 2QT
Wokingham King Street Lane RG41 5AR
Wolverhampton St Marks WV3 0TE
Wombourne Heathmill Lane WV5 8AP
Worcester Worcester St Johns WR2 4EL
Worksop Highground Road S80 3AT
Worthing Downslands Business Park BN14 9LA
Wrexham Plas Coch Road LL11 2BW
York Monks Cross YO32 9LG