Doctor Who Titan Comic UK Issue 8
THE FRACTURES PART 3
In our world, UNIT scientist Paul Foster was killed in a car crash – in his, his wife and daughters perished, and only he survived. This alternate Paul Foster has crossed through the Void to reunite with his family in our reality.
But he doesn't belong here, and a menacing group of body-hopping interdimensional entities known as the Fractures are hunting Foster to stop reality from rupturing! Now the Fractures have infiltrated UNIT headquarters, and Chief Scientific Officer Kate Lethbridge-Stewart knows there's only one person who can help them – the Doctor. But he and Clara have problems of their own!
THE RISE AND FALL
Alice believed her mother had returned from the dead, only for it to be revealed as a trick by SERVEYOUinc's deplorable Talent Scout. Accidentally volunteering herself as Infinite Astronaut, Alice was forced to embark on a dangerous imension-crossing mission to discover the Creator's true identity.
While their quest ended an interstellar war, Alice's inability to feel the cosmic wonder she witnessed has left her empty. Now, the Doctor has had enough. No one hurts his friends and gets away without at least a stern telling-off. It's time to lodge a complaint – at SERVEYOUinc Headquarters!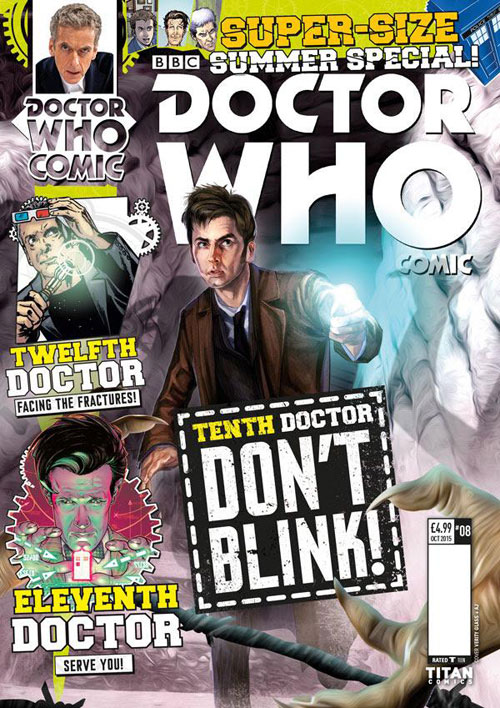 THE WEEPING ANGELS OF MONS PART 3 AND 4
On the battlefields of WWI, the soldiers believed mysterious moving statues were saving them from the horrors of war, but the Doctor knows the truth is far worse. Having recovered his Sonic Screwdriver and won the trust of Captain Fairbairn and his troops, the Doctor must now lead the survivors to safety.
But stranded in a derelict warzone, under fire from artillery bombardments, the Time Lord is beginning to question humanity. With the TARDIS missing and the Weeping Angels closing in, will the Doctor and Gabby ever escape the trenches?