Doctor Who Titan Comic UK Issue 3
Titan Magazines is excited to announce the UK launch of the BBC Doctor Who Comic, featuring the Tenth, Eleventh and Twelfth Doctors in every single issue.
This adventure-packed comic has three on-going stories, featuring the three most popular incarnations of the Doctor repackaged into a UK only comic! If you're desperate to have more from your favourite doctor outside the TV series this comic will fill that Doctor Who-shaped hole in your life with a new issue every four weeks, in a format only available in the UK.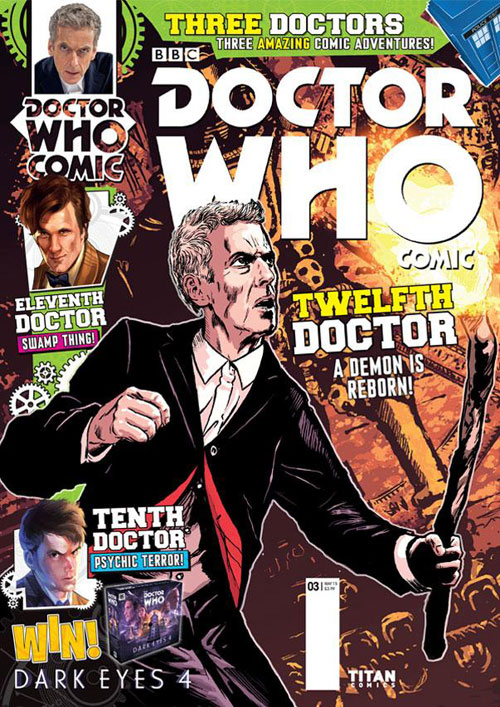 This comic is essential for any Doctor Who fan who can't stand the long wait until the new series.
Join the Tenth Doctor as he deals with the aftermath of Donna Noble's heart-breaking farewell. The Doctor feels he may never again have another companion, but maybe an adventure with some psychic aliens, a New York laundrette operator and the Mexican Day of the Dead festival can help change his mind!
Then, while Amy and Rory are away, the Eleventh Doctor will play! Experience a time-twisting adventure as he hurtles down a collision course into a terrifying cosmic threat. Can the Doctor save the day once more with a grieving young woman, a 70s' musician, and an amnesiac alien? Find out in this issue!
Every issue features stunning writers and artists, including Eisner Award-winning Nick Abadzis (Laika), fan-favourite Elena Casagrande (Angel, Star Trek), Al Ewing (Loki: Agent of Asgard) and Rob Williams (Trifecta), Simon Fraser (Grindhouse), Eagle award-winning writer Robbie Morrison (The Authority, 2000AD) and Dave Taylor (Batman: Death By Design, 2000AD)! Don't miss their amazing renditions of the Doctors each month! And every issue comes with an original humour strip and competitions offering the best Doctor Who prizes in the Galaxy. In issue one, readers can win a set of the Tenth, Eleventh and Twelfth Doctor Vinyl figures. The first issue will also feature an EXCLUSIVE CODE to download comic strip characters into the ever-more-popular Doctor Who Legacy free-to-play game, completely FREE of charge!
You can Subscribe now and get a free t-shirt at www.titan.subscribeonline.co.uk