Bradford Exchange Doctor Who 'Time Lord' Personalised Wristband
Available to order from www.bradford.co.uk
Doctor Who 'Time Lord' Personalised Wristband An officially licensed Doctor Who first-of-kind personalised wristband
Legions of Doctor Who fans all around the world have followed the Time Lord on his adventures through space and time – and now there's a new way to be part of his world with this first-of-a-kind Time Lord wristband.
Featuring the mysterious Time Vortex and the Doctor's trusty TARDIS, it's the perfect gift for any aspiring time-traveller.
Exclusively available from The Bradford Exchange – you won't find this edition anywhere else!
Officially licensed
Handcrafted of braided black genuine leather, tagged with a Time Lord power symbol, the Seal of Rassilon
24-carat gold accents and TARDIS blue Swarovski® crystal detail
FREE personalisation for every would-be Time Lord!!
Handcrafted for durability to withstand the rigours of time travel, the main section is adorned with 24-carat gold plated cogs and mysterious Time Vortex, carrying a miniature TARDIS to another dimension against a background of Gallifreyan symbols.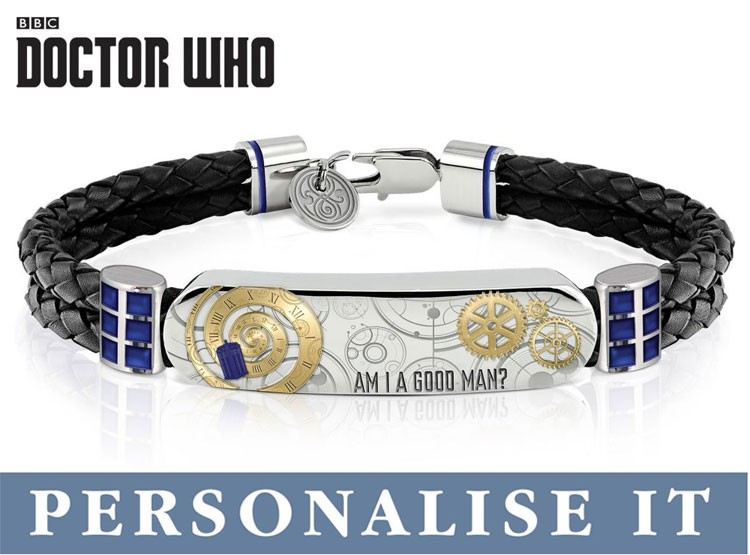 Two striking beads, each containing six TARDIS blue Swarovski® crystals, adjoin the adjustable black leather strap, tagged with a Time Lord power symbol, the Seal of Rassilon.
And, for that individual touch, the reverse can be personalised with your own name, or the name of a devoted Doctor Who fan among your family and friends, citing you as dedicated Time Lord.
This high-quality collector's item is official merchandise of Doctor Who and will only be available from The Bradford Exchange, accompanied by a custom-designed presentation case and a Certificate of Authenticity. Order now!