Doctor Who The Music 11 LP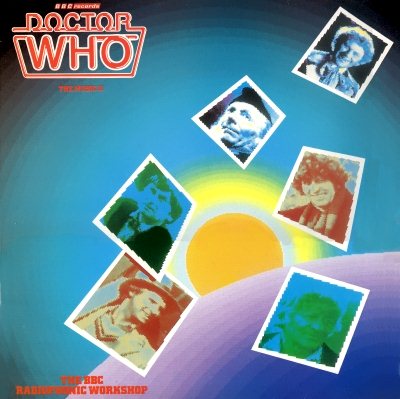 Two blasts of Rassillon's Horn welcome you to the Death Zone an Gallifrey, the scenario for THE FIVE DOCTORS'. This Special adventure was created to celebrate 20 years of DR WHO and included all the five Doctor characters – William Hartnell, Patrick Troughton, Jon Pertwee, Tom Baker and Peter Davison – who were summoned from their respective time zones by the immortality seeking….(but then, perhaps you haven't seen the story yet).
Whether King John ever got involved with an Android isn't mentioned in history books, neither was Magna Carta farsighted enough to include a clause to the contrary.
The Master continues to do his evil best to thwart the course of history and the Doctor and his companions are cast as 'The King's Demons.' A boat race in space, with 'Enlightenment' as the prize for the winner, provided the necessary inspiration for some piratical music coupled with a South American dance rhythm and theme – the M'longa.
The dangers planned by the Black Guardian are avoided in the nick of time and Tegan goes to the Ball, complete with a new gown and tiara. Warriors of the Deep' found the Doctor, Tegan and Turlough in an underwater security base not only fighting off the Myrkar (a sea creature controlled by those past acquaintances of the Doctor, the Silurians), but also preventing the world being held to ransom by political terrorists.
Very much with Malice aforethought, 'The Awakening' brought superstition to life from behind the church wall. Flashbacks to the Civil War and Cromwellian times all added excitement and drama to this short adventure. Davros is alive and well, albeit refrigerated in a prison ship.
Released by the mercenary Lytton in 'Resurrection of the Daleks,' he uses his Daleks to invade Earth. This adventure began a succession of departures from the series, as Tegan takes a tearful farewell. From the frying pan into the 'Planet of Fire (shot on location in Lanzarote), the Doctor finds a new companion, Perpugilliam Brown, Peri for short. Harnessing the volcanic gasses of Zarn, the Master is again terrorising the neighbourhood using an Android (Kamelion) in many forms.
Turlough finds happiness and leaves the Doctor. Similarly subterranean (only more so), 'The Caves of Androzani' were the last battleground for the Doctor, as played by Peter Davison. Mock executions, mud bursts and the sinister Sharaz Jek, all led up to the climactic regeneration of the new Doctor.
This selection of incidental music from past series of DOCTOR WHO was composed by Malcolm Clarke, Jonathan Gibbs, Peter Howell and Roger Limb of the BBC Radiophonic Workshop. Certain liberties have been taken with the arrangement of the music in order to provide a continuous 'suite' from each story, so don't be too surprised if the music doesn't follow strict chronological story order; the aim has been to provide the flavour of each adventure, not a perfect musical reconstruction.
Dick Mills BBC Radiophonic Workshop