Doctor Who The Monster Collection Silurians DVD
Doctor Who The Monster Collection DVD
Note the original images sent by the BBC were drafts.The final covers are now shown.
Correct covers with thanks to TheMindRobber
These six real 'hide behind the sofa' collections bring together episodes of the scariest and most iconic monsters from Doctor Who's classic and recent series.
Each title concentrates on a deadly enemy – The Daleks, Cybermen, Sontarans, The Master, Davros and the Silurians – and features two separate stories from popular incarnations of the Doctor, including Matt Smith, David Tennant, Tom Baker and Jon Pertwee. These collections are perfect for younger viewers just discovering the scary delights of fifty years of Doctor Who.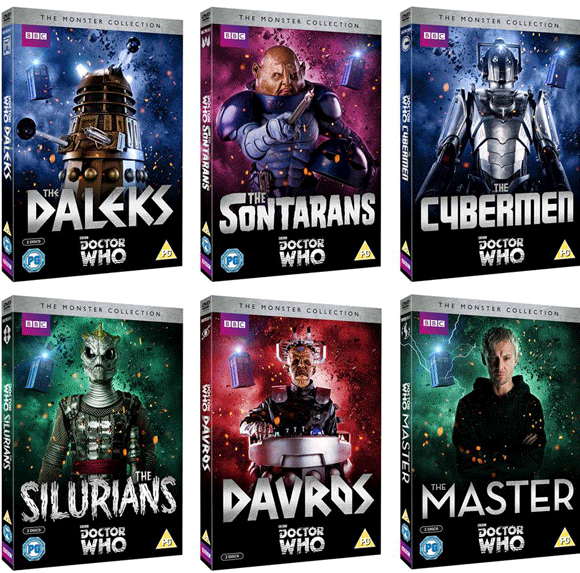 The Monster Collection: The Silurians

The Silurians (1970)
Investigating a nearby cave system, the Doctor discovers it is the base of a group of intelligent reptiles, termed Silurians, who went into hibernation millions of years ago but have now been revived by power from the research centre. Starring Jon Pertwee as the Third Doctor.
The Hungry Earth and Cold Blood (2010)
The Doctor tries to get everyone to Rio, but nothing quite goes as planned. They arrive in a small Welsh village where the Doctor immediately senses that the ground isn't quite right. Starring Matt Smith as the Eleventh Doctor.