Doctor Who The Krotons DVD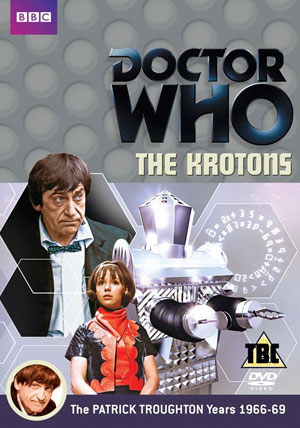 Doctor Who The Krotons DVD
The TARDIS arrives on the unnamed planet of the Gonds, who are ruled and taught in a form of self-perpetuating slavery by the alien Krotons – crystalline beings whose ship, the Dynatrope, crash-landed there thousands of years ago after being damaged in a space battle.
The Krotons are at present in suspended animation, in a crystalline slurry form, awaiting a time when they can be reconstituted by absorbtion of mental energy. Periodically, the two most brilliant Gond students are received into the Dynatrope, apparently to become 'companions of the Krotons' but in truth to have their mental energy drained, after which they are killed.
When the Doctor and Zoe take the students' test, their mental power is sufficient to reanimate the Krotons. The Doctor discovers that their life system is based on tellurium and, with help from the Gond scientist Beta, he is then able to destroy them and their ship using an impure form of sulphuric acid.
Special Features:
• Audio Commentary
• Second Time Around
• Doctor Who Stories – Frazer Hines (part one)
• The Doctor's Strange Love
• Photo Gallery
• PDF materials: Radio Times Listings
• Production Note Subtitles
• Digitally remastered picture and sound quality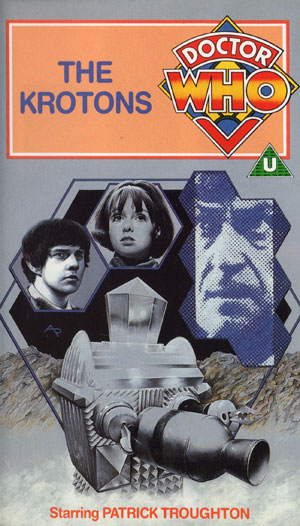 Original VHS cover and information…
As the tardis door opens onto a barren planet, the Doctor steps straight into a struggle to destroy the merciless Krotons, the unseen rulers of the Gond people.
Conditioned to obey by teaching machines the Gonds put up no resistance until, with the Doctor's help, they discover exactly what has been happening to their best students.
Battling against the Krotons' vast scientific knowledge the Doctor and Zoe must stop them turning mental power into pure energy.
With a brave band of Gonds and Jamie, prepared to fight to the^end, it may be defeat for the Krotons, but ultimately it will be a test of knowledge that only Doctor Who can match…
First transmitted December 28th 1968 – January 18th 1969