The Good, the Bad and the Alien / System Wipe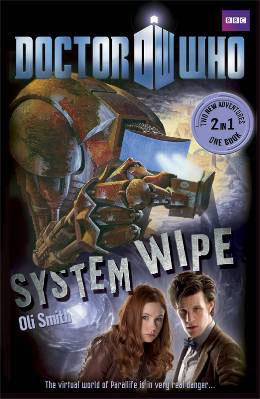 Doctor Who: The Good, the Bad and the Alien/System Wipe
Action-packed new chapter books for younger Doctor Who fans, starring the Eleventh Doctor with his companions Amy Pond and Rory Williams. Double-fronted books each contain two fast-paced, fun-filled Doctor Who adventures! Essential reading for any young fan, combining two adventures in one book ensures fans are hooked and only too happy to read on…
Aliens have crash-landed in the Wild West and they're ready for a showdown in The Good, the Bad and the Alien! Can the Doctor, Rory and Amy work out which are the good guys and which are the bad?
The Doctor finds himself trapped in a virtual world in System Wipe. As he tries to save the characters of the virtual world from being destroyed by a deadly virus, Amy and Rory must fight to keep the Doctor's body in the real world safe from the mysterious entity known as Legacy…
Due for release on 3rd Febuary 2011
Get Ready for a Year Full of Adventure with this Exciting New Fiction Series for Young Doctor Who Fans!
This thrilling new series of Doctor Who fiction is set to be the most exciting collection of Doctor Who books yet! With two fast-paced, fun-filled adventures in one book, Doctor Who devotees won't be able to resist getting immersed into the world of the Eleventh Doctor and sharing in his thrilling escapades. Plus, the books are double-fronted fans can start with whichever story they like, then flip the book over and read the next one!
Other books on this series…
Book 1 Heart of Stone / Death Riders
Monsters made from moon rock are attacking an Earth farm in Heart of Stone. Everything they touch turns to stone – even people. Can the Doctor, Amy and Rory find out what the creatures want before it's too late?
In Death Riders the Galactic Fair has arrived on the mining planet of Stanalan and the Death Ride roller coaster is really drawing in the crowds. But there's something sinister going on behind all the fun of the fair. Join the Doctor, Amy and Rory as they investigate…
Due for release on 3rd Febuary 2011
Book 3: Rain of Terror/Extra Time
Due for release on 28 April 2011
On the planet Tanbrek, terrible tiny creatures swarm down from the sky in Rain of Terror. Can the Doctor, Amy and Rory help the colonists escape from the alien infestation?
The Doctor, Rory and Amy take a trip to the 1966 World Cup in Extra Time. Rory ends up playing a crucial part in this historic football match, while the Doctor and Amy discover that the Doctor isn't the only alien visiting Wembley…
Book 4 The Underwater War/Terminal of Despair
Due for release on 28 April 2011
The Doctor, Amy and Rory join an undersea exploration ship on the planet Hos in The Underwater War. When a virus infects the crew, they discover the ship is hiding a dangerous secret…
In Terminal of Despair, the TARDIS crew find themselves trapped in a quarantined spaceport where the waiting passengers have lost all hope of ever getting home. Can the Doctor