Doctor Who The Complete Series 8 Steelbook
Available to order while stocks last from www.amazon.co.uk
Also available to order while stocks last from www.zavvi.com, www.hive.co.uk and other selected retailers.
You can also check to see if any retailers are selling this via www.ebay.co.uk
There's a brand new face at the controls of the TARDIS as Peter Capaldi becomes the Twelfth Doctor steering the blue box. In a feature-length opener we see the Doctor crash land in Victorian London.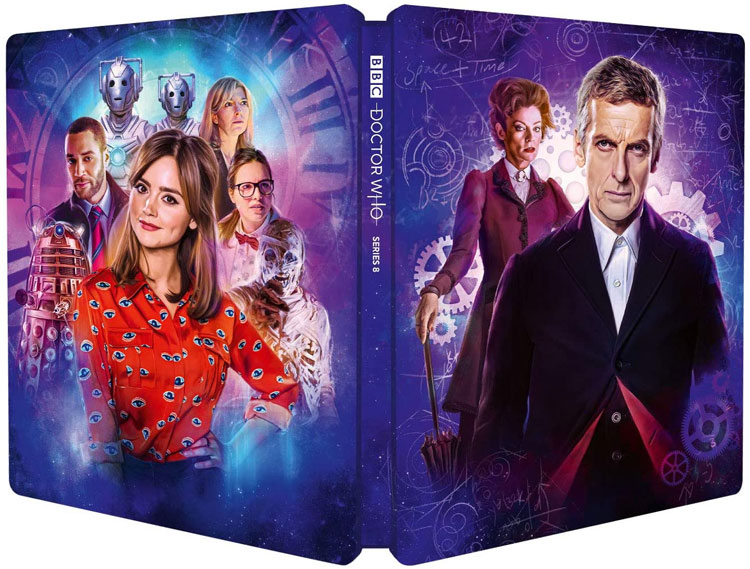 As Clara struggles to recognise the man she thought she knew so well, killers are stalking the capital. A slaughterhouse restaurant and a buried space ship lead the Doctor into a confrontation with a long forgotten foe … but how far will this new man go to protect his friends? The Doctor and Clara encounter wonders and horrors. They meet a fleet of Daleks while attempting to rescue a stranded ship of human survivors, face ranks of Cybermen stalking the Earth, and go back in time to join Robin Hood in a fight with killer robots. As Clara falls for handsome fellow teacher Danny, can she keep her two extraordinary lives going?
Sleeve illustration by Sophie Cowdrey.
EPISODES
• DEEP BREATH
• INTO THE DALEK
• ROBOT OF SHERWOOD
• LISTEN
• TIME HEIST
• THE CARETAKER
• KILL THE MOON
• MUMMY ON THE ORIENT EXPRESS
• FLATLINE
• IN THE FOREST OF THE NIGHT
• DARK WATER
• DEATH IN HEAVEN
BONUS FEATURES
• 4 X AUDIO COMMENTARIES
• THE ULTIMATE TIME LORD
• THE ULTIMATE COMPANION
• INSIDE THE NEW TARDIS
• FOXES – DON'T STOP ME NOW MUSIC VIDEO
• 4 X DOCTOR WHO EXCLUSIVES
• 12 X BEHIND THE SCENES
• DEEP BREATH Q&A
• DOCTOR WHO: EARTH CONQUEST
• THE WORLD TOUR
• 4 X TRAILERS