Doctor Who The Collection Season 19 UK Standard Packaging Release
Available to order from www.amazon.co.uk and www.hive.co.uk
Also available from www.zavvi.com and other selected retailers.
The Collection range of Doctor Who will be re-issued in standard packaging! The first titles to join this range will be Season 12 and Season 19, which are available to pre-order now.
Releases within the new, standard packaging Doctor Who: The Collection range will feature a standard, plastic Blu-ray case inside a slipcase, with a condensed, standard-printed 12-page booklet featuring disc-breakdowns and selected illustrations. The new range will include all of the watchable content and special features included in the Limited Edition Packaging release.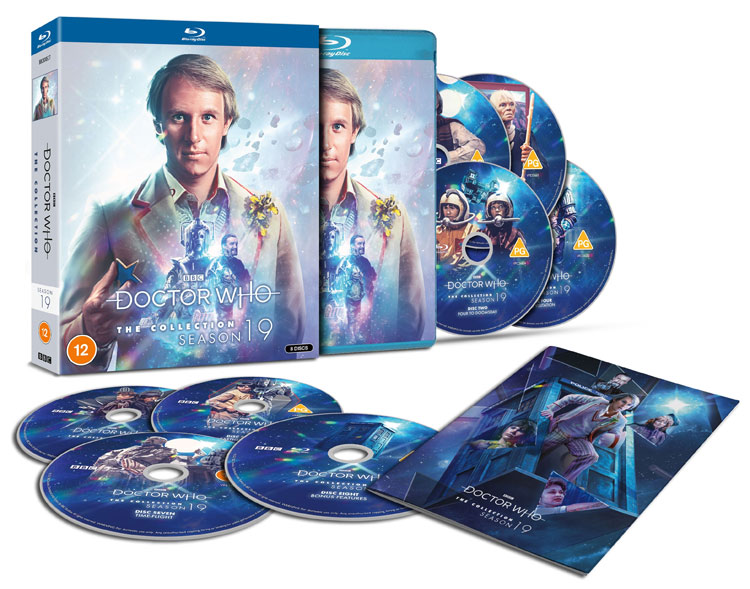 The Fifth Doctor's classic first season – all 26 episodes newly restored for Blu-ray, packed with bonus material.
CASTROVALVA
FOUR TO DOOMSDAY
KINDA
THE VISITATION
BLACK ORCHID
EARTHSHOCK
TIME-FLIGHT
Special Features:
PETER DAVISON IN CONVERSATION – A candid one-hour interview with the Fifth Doctor
FIVE NEW MAKING-OF DOCUMENTARIES For Castrovalva, Four To Doomsday, Black Orchid, Earthshock and Time-Flight
BEHIND THE SOFA – Classic clips viewed by Peter Davison, Sarah Sutton, Janet Fielding, Matthew Waterhouse, Mark Strickson & Sophie Aldred
IMMERSIVE 5.1 SURROUND SOUND MIXES For Kinda and Earthshock
EXCLUSIVE EXTENDED EPISODE Black Orchid Part One
EXTENSIVE STUDIO RECORDING TAPES – Raw studio footage from Castrovalva, Four To Doomsday, Earthshock and Time-Flight
PRODUCTION ARCHIVE MATERIAL
Also contains extensive Special Features previously released on DVD including: TIME CRASH MINI EPISODE, MAKING OF DOCUMENTARIES, FEATURETTES, OPTIONAL CGI EFFECTS, AUDIO COMMENTARIES, RARE FOOTAGE, PRODUCTION INFORMATION SUBTITLES, ISOLATED MUSIC SCORES AND MUCH MORE.
Starring:
PETER DAVISON, JANET FIELDING, SARAH SUTTON and MATTHEW WATERHOUSE