Doctor Who Tardis Tablecloth
Available to order from www.thinkgeek.com
If you are planning any sort of Doctor Who-themed parties, then you need this TARDIS tablecloth. Because your friends are messy.
Last night, we heard a noise in the kitchen. We peered in, armed with a fly swatter and a dirty sock ball (hey, it's all we could grab in a hurry), and saw… nothing. That is, we didn't see any people in the kitchen. We did see a bunch of crumbs all over the table. And it would have made us mad, except our table was protected by a Doctor Who TARDIS Tablecloth.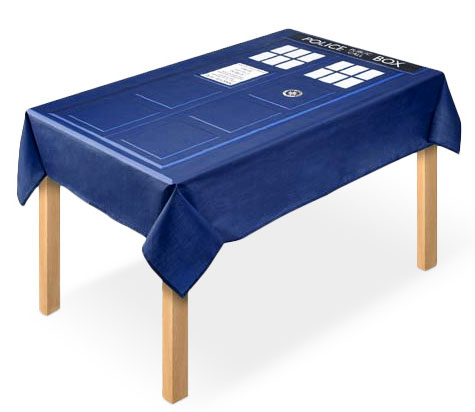 The Doctor Who TARDIS Tablecloth is a very sturdy tablecloth, indeed. It looks like the front of the TARDIS and will protect any table it's placed upon. Perfect for Doctor Who parties, family meals (where Doctor Who is discussed), or just because you need even more TARDIS in your life. Oh, and those crumbs? We think they were from the Doctor. How he got back into the Doctor Who TARDIS Tablecloth, we'll never know.
Product Specifications
Let the TARDIS protect your tabletops
Officially-licensed Doctor Who tablecloth
Materials: 35% Cotton, 65% Polyester
Care Instructions: Spot clean with a damp cloth and mild detergent
Imported
Dimensions: approx. 54.8″ x 73″
---
Also Available…
Doctor Who Sonic Screwdriver Cutlery Set
Available to order from www.thinkgeek.com
Even the good Doctor needs a nice set of cutlery that's in keeping with his hard-earned image. That's where this Doctor Who Cutlery Set comes in. Dine like a Time Lord with your very own fork, knife, and spoon modeled after Doctor Who's Sonic Screwdriver!

The Doctor Who Sonic Screwdriver Cutlery Set comes with three utensils: a fork, a spoon, and a knife. The sonic screwdriver part is the handle and the metal part is the part that brings or prepares food for going into your mouth. With a Doctor Who Sonic Screwdriver Cutlery Set, all your meals will be adventures in time and space… and food.