Doctor Who Tardis Men's Jewelry Gift Set (Thinkgeek)
Available to order from www.thinkgeek.com
Truly, the best gift you can give anyone is the gift of adventure. But we haven't yet figured out how to wrap up the feeling of swooping in with the TARDIS and snapping up a companion for a frolic through space and time.
Still working on how to get the wrapping paper and bow around that, exactly. But while we work out the kinks on how to deliver adventure itself in a decorative tin, there are alternative gift sets that work almost as well.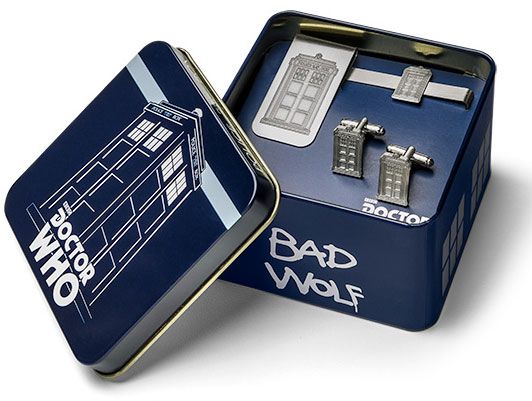 TARDIS-emblazoned set of stainless steel cufflinks, tie clip, and money clip, all in a decorative gift tin. The perfect gift set for a Whovian at graduation or to celebrate a new job. Also makes a great gift for wedding parties, for the Companions who agree to stand up with you while you take your vows.
For our customers with nickel allergies: these are made from 316L grade surgical stainless steel. That means their five main components are iron, chromium, nickel (10-14%), molybdenum, and manganese. This is implant-grade steel.