Doctor Who Tardis Console Lamp Released During SDCC

Now available to order for $29.99 from www.ThinkGeek.com
Doctor Who TARDIS Console Lamp Released During San Diego Comic-Con 2017
Doctor Who TARDIS Console Lamp, the unique and highly anticipated product seen online and televised on The Fan Show since April 2017, makes its retail debut during San Diego Comic-Con 2017.
WHO: The Doctor, that's Who!
WHAT: Rabbit Tanaka's Doctor Who TARDIS Console Lamp is launching at San Diego Comic-Con 2017!
WHEN: July 20, 2017 through July 23, 2017
WHERE: FYE San Diego Comic-Con Pop-up Store
165 Horton Plaza, Space #155, San Diego, CA 92101
½ mile north of the San Diego Convention Center
HOW: Special SDCC17 shipment of the TARDIS Console Lamp will be available for Whovians during SDCC exclusively at the FYE San Diego Comic-Con Pop-up Store.
Beyond SDCC17, look for the product at www.fye.com and www.thinkgeek.com stores, and online with numerous e-tailers, including www.amazon.com #ad , www.fye.com, www.MichaelRodents.com, www.ThinkGeek.com, www.WhoNA.com, and www.WibbilyWobblyTimeyWimey.com.
WHY: As tens of thousands of Whovians descend upon San Diego Comic-Con, Rabbit Tanaka welcomes them with the TARDIS Console Lamp, which has been among the most buzzed items on Doctor Who: The Fan Show.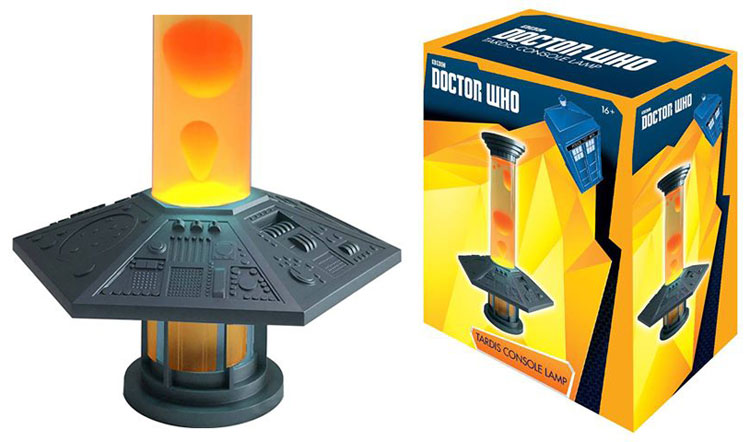 MORE: Inspired by Mr. Craven-Walker's original astro lamp, the TARDIS Console Lamp is advanced technology at its finest. Globules of paraffin and opaque substances undulate as a modest 25-watt bulb delivers a mesmerizing, dimensionally satisfying glow. The TARDIS Console Lamp towers up at 18" of rippling retrograde geometry.
It is perfectly suited for parallel universes, though a conversion kit will be necessary to operate in the U.K.
"Whovians rejoice!" declared Vincent Farrand, Director of Rabbit Tanaka. "If there is no bending in the time-space continuum, fans will have their own TARDIS Console Lamp just in time for the opening day festivities of SDCC17."
Doctor Who is under license from BBC Worldwide North America.
TARDIS Console Lamp operates on 120V AC with UL listing. Made for U.S. and Canadian market only.
---

Can't get to SDCC?

Now available to order for $29.99 from www.ThinkGeek.com

Also available to order in the USA from www.fye.com

Also available to order in the USA from www.amazon.com #ad
---