Doctor Who Silver Collectable Series
Doctor Who Silver Collectable Series
You can order this item from the Royal Mint website Here or to see all the Royal Mint coins on our site click Here.
The ultimate collectors' edition which no true Doctor Who fan would want to miss out on, these sterling silver medals are struck to Royal Mint Proof quality, the highest minting standard, and hand-polished to a gleaming finish. The first medal in the collection features the Eleventh Doctor.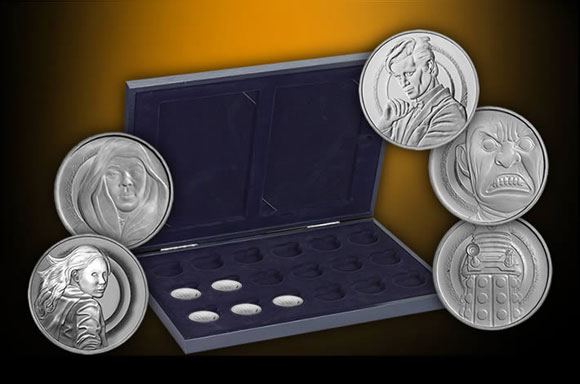 By signing up to the Eleventh Doctor Medal you are guaranteeing your right to build the whole collection of medals. A new medal will be sent to you once a month and will build up to a fabulous 18-medal set, featuring favourites such as the Doctor's companion Amy Pond, or the chilling Daleks, and some medals that will be exclusive to the collection such as the Cybermen, Silurians and Davros.
Each collectable medal is accompanied by a fact-filled storycard. A Certificate of Authenticity is supplied with the second medal, and a presentation box is supplied with your sixth medal so you can display your set in style. So if you are a Doctor Who fan, or know someone who is, this is the ultimate collection for you.