Doctor Who Shada Steelbook (2017)
Available to order from www.amazon.co.uk
Also available to order from www.zoom.co.uk, www.zavvi.co.uk and www.hmv.com
---
Update:
The limited edition bluray steelbook edition of Shada comes with a whole new disc of extras, including:
Shada 1992 VHS Compilation
This inclues the edition of Shada released on the VHS format in 1992. It features the original footage combined with Tom Baker narrating the missing scenes.
To celebrate Doctor Who's 40th Anniversary, the BBC produced a new animated version of the Douglas Adams story, which was made available on the Doctor Who website. It was rewritten to feature Paul McGann as the Eighth Doctor, and also stars Lalla Ward as Romana and John Leeson as K-9.
---
"Delicate matter, slightly. It's about a book…"
Chris Parsons is happily engrossed in studying post-graduate physics at Cambridge, when one day he finds an old book, sitting on a dusty shelf in an ageing professor's library. Written in a language nobody can read and made of a paper that can't be torn, this is no ordinary book.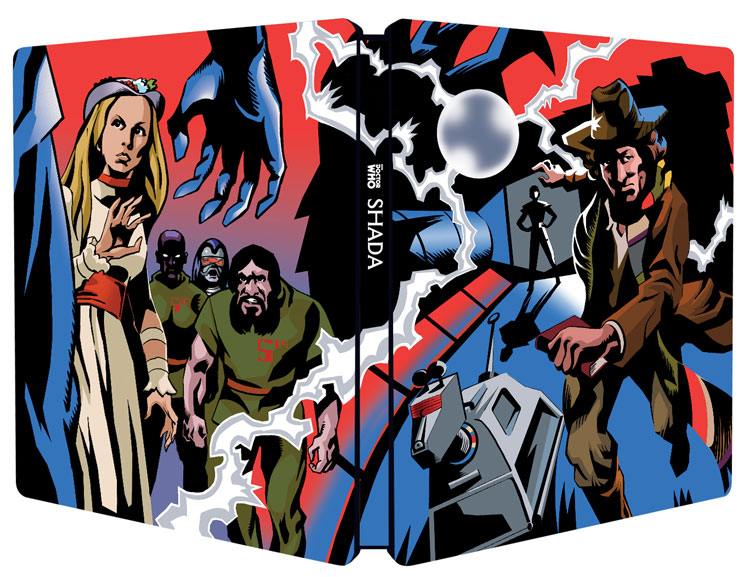 And when it enters his life, everything changes for young Chris Parsons.
Soon finding himself aboard an invisible space-ship, chased by monsters made of molten rock; aboard an alien prison on a distant planet and attacked by a horde of mind-control zombies. Chris also meets a strange man with a very long scarf who claims he can travel through time and space… in a police box.
It's going to be a busy day for Chris Parsons.
Taken Out of Time (25′ 39″)
Now and Then (12′ 45″)
Strike, Strike, Strike! (27′ 50″)
Studio Sessions – 1979 (44′ 38″)
Dialogue Sessions (14′ 16″)
Model Filming (04′ 36″)
Deleted Scenes (01′ 22″)
Title Sequence Films (TBC)
Live Action Reference Footage (02′ 48″)
1979 Gallery (04′ 50″)
2017 Gallery (02′ 52)
An abandoned Doctor Who classic is brought to life. Starring Tom Baker and written by Douglas Adams, this is "Shada" for a modern audience, with footage upscaled to high definition, and incomplete footage now completed using high-quality animation.