Doctor Who: Shada (Classic Novel) Audiobook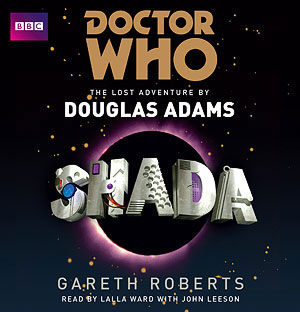 Doctor Who: Shada (Classic Novel Audiobooks)
Thirty-three years ago, the BBC started filming Douglas Adams' six-part Doctor Who serial, Shada. But industrial action halted recording, and the story was left unfinished… until now.
This March, AudioGO are thrilled to be releasing an unabridged reading of this long-lost adventure – at the same time as the BBC Books hardback.
Written by acclaimed Doctor Who novelist and screenwriter Gareth Roberts, it is based on Douglas Adams' original scripts and read by Lalla Ward (who played the Doctor's companion Romana). John Leeson, the original K9, returns as the voice of the Doctor's faithful robot dog. The reading is enhanced with music and sound design.
The Doctor's old friend and fellow Time Lord Professor Chronotis has retired to Cambridge University – where nobody will notice if he lives for centuries.
But now he needs help from the Doctor, Romana and K-9. When he left Gallifrey he took with him a few little souvenirs – most of them are harmless. But one of them is extremely dangerous.
The Worshipful and Ancient Law of Gallifrey isn't a book for Time Tots. It is one of the Artefacts,
dating from the dark days of Rassilon. It must not be allowed to fall into the wrong hands.
The sinister Skagra most definitely has the wrong hands. He wants the book. He wants to discover the truth behind Shada. And he wants the Doctor's mind…
Due for release on 08 March 2012