Doctor Who: Series 5 Volume 3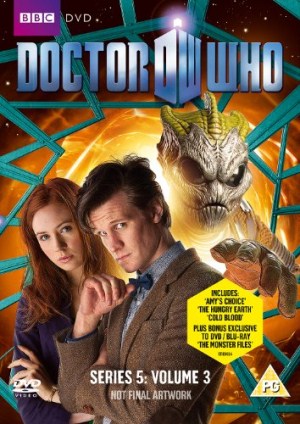 Doctor Who: Series 5 Volume 3
A completely fresh look: bigger, better, more dramatic and shot in HD .
Matt Smith is the new Doctor, mercurial & energetic. Karen Gillan is Amy Pond the Doctor's new smart & sassy assistant.
Written by BAFTA winner Steven Moffat – writer of landmark episodes including The Empty Child, Blink and Silence in the Library. This volume release contains episodes 7-9 of the brand new series and promises more adventures and scary enemies as the New Doctor gets acquainted with his brand new Tardis and companion.
Episode 7 Amy's Choice
It's been five years since Amy travelled in the Tardis with her mysterious Doctor and when he shows up again, on the ever of the birth of her first child, danger is not far behind him. Amy is faced with a heartbreaking choice that will change her life forever. Guest star Toby Jones.
Episode 8 and 9
In 2015, the most ambitious drilling project in history is under way. Dr Nasreen Chaudhry and her team have reached 21 Kilometres into the Earth's Crust, but something is stirring far below. Amy Pond discovers there's nowhere to run when you can't even trust the ground at your feet. Guest stars Meera Syal, Stephen Moore and Neve McIntosh
Release date: 02/08/2010
Artwork subject to change