Doctor Who Series 3 Vol 3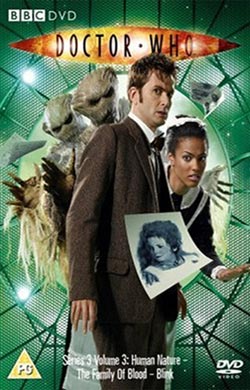 The Third volume from series 3 features three episodes.
In 'Human Nature' a teacher – John Smith in 1913 — dreams of an enigmatic blue box and the ability to travel through space and time. His extraordinary visions coincide with the coming of something strange and sinister.
This gripping story is concluded in 'The Family Of Blood'. In 'Blink' the shadowy Weeping Angels wait in an abandoned house while a young woman called Sally is plagued by messages being sent from 1969 by a stranger called the Doctor.
Can sally unravel the mystery before the Angels are able to claim their prize?