Doctor Who: Prisoners of Time (3 of 12)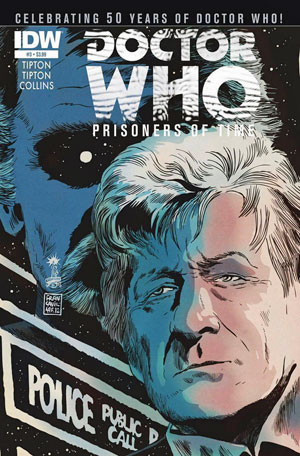 Doctor Who: Prisoners of Time (3 of 12)
"Now listen to me!" It's time to fire up Bessie, as the Third Doctor takes the spotlight in this issue of a 12-part epic adventure featuring all 11 incarnations of the Doctor!
November 23, 1963: A day that changed the world forever. That day saw the broadcast debut of Doctor Who, which was to become the longest-running science-fiction series on television.
And now 50 years later, we pay tribute to one of the greatest pop-culture heroes of all time with this special series, which tells an epic adventure featuring all 11 incarnations of the intrepid traveller through time and space known simply as… the Doctor.
IDW Publishing currently publishes a wide range of comic books and graphic novels including titles based on Angel, Doctor Who, GI Joe, Star Trek, Terminator: Salvation, and Transformers.
Full details can be found at www.idwpublishing.com
You can buy issues on-line at the IDW Shop (some regional restrictions can apply) or you can buy digital versions of this and all previous graphic novels from www.idw.comixology.com.
You can also see previews of IDW graphic novels at www.issuu.com