Doctor Who Official 2021 Classic Edition Calendar
Available to order from www.amazon.co.uk, www.danilo.com and www.calendarclub.co.uk
Doctor Who first aired in 1963 on the BBC. Today the series is watched worldwide in over 90 countries. This is a science fiction TV programme which follows the adventures of an alien known as 'The Doctor' who travels through time and space in his spaceship called 'The Tardis.'
The very first Doctor was played by 'William Hartnell' and since then there have been 11 other male Doctors and now the latest Doctor is a female played by 'Jodie Whittaker.' Since Doctor Who began there have been over 860 episodes over 12 seasons.
Doctor Who is still popular today due to the cleverness of the writers and the characters. The advantage is as the Doctor can regenerate, the show can constantly reinvent itself. It never has to end, because The Doctor never has to truly leave or die!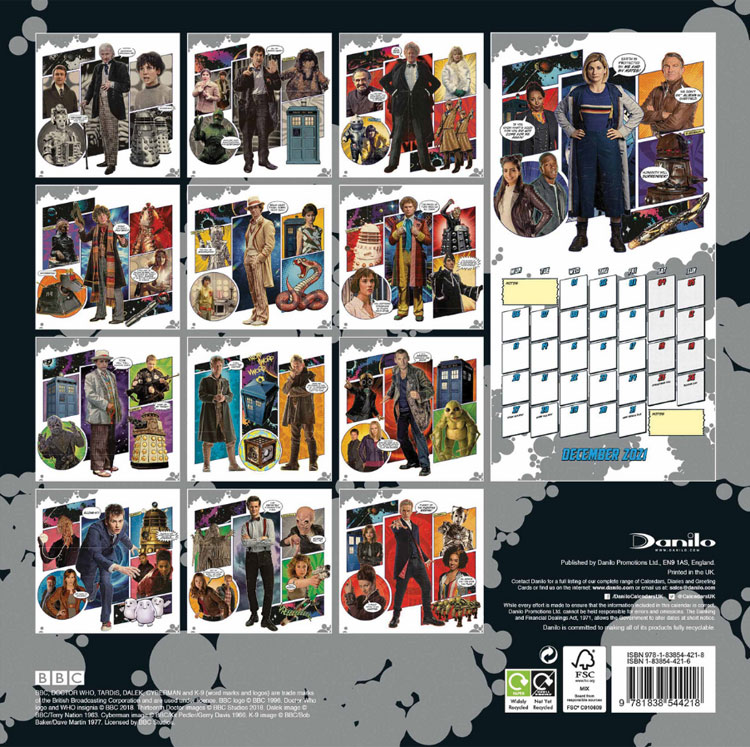 Buy today this Doctor Who Classic Edition Official 2021 Square Wall Calendar for your Dr Who fan. This Poster calendar will have memorable pictures of all the Classic Doctor's. There will also be an opportunity to write all your important dates in the date boxes provided.