Doctor Who Monster Series Weeping Angel Coin
Doctor Who Monsters Series Coin Weeping Angel
All coins are available to order in the UK from www.minted-uk.com or in New Zeeland from www.nzmint.com
Last year the New Zealand Mint won the rights to produce commemorative gold and silver coins based on the cult British science-fiction tv series, Doctor Who, and they've done a great job with it so far. The second of the New Zealand Mints new 'Doctor Who Monsters' series of five silver coins has just been released and it maintains the high standard set by the first coin from last month, The Daleks. This time the featured 'Monster' is the only one of the five subjects of this series to have not appeared in the original classic Doctor Who, being solely a character from the 2005 revamp. To say it's a fan favourite would be an understatement.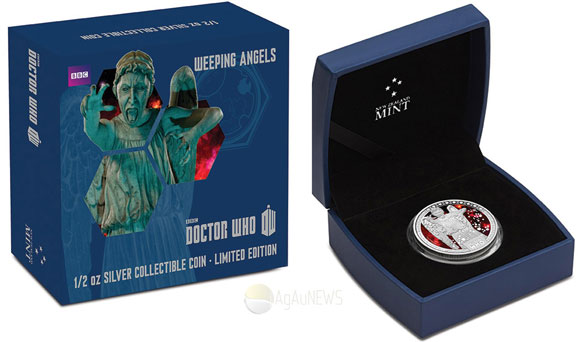 The other coins to be released are the Cybermen (April), the Silurians (May), and the Sontarans (June). The last two were chosen by fan votes taken on the NZ Mint website and by the UK distributor, Minted-UK, at the 50th Anniversary event held by the BBC in London at which over 20,000 attended. We've seen the Cyberman coin and it's our favourite so far, so keep an eye out next month for it.
The Weeping Angels are an ancient race of aliens described as being " as old as the universe (or very nearly), but no one really knows where they come from." Unable to move while being watched, they feed on the energy released when they send someone back in time. Also described as "the deadliest, most powerful, most malevolent life-form evolution has ever produced", they move incredibly quickly when unobserved, so the only way to save yourself is to keep an eye open on them at all times.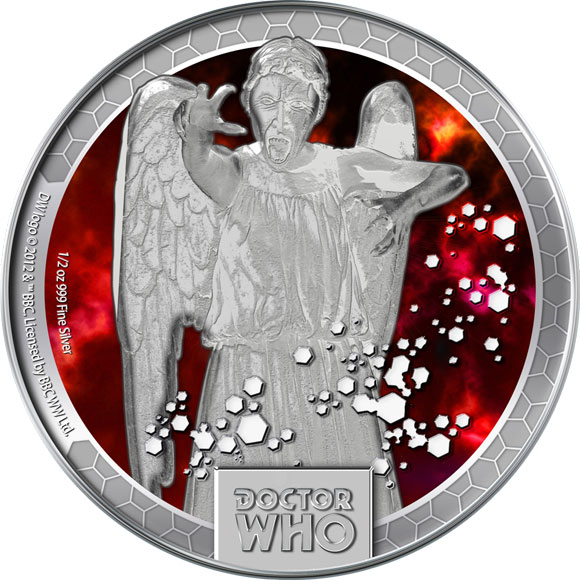 Introduced in the 2007 episode "Blink", it's gone on to be one of the most highly thought of episodes in Doctor Who history. Despite not being huge fans of the show, this was a superb piece of story-telling and the creatures have entered Who lore alongside the Daleks and next months subject, the Cybermen as being classic enemies. Given the show is now 50 years old, that's no mean feat in itself.
Struck by the Perth Mint for the New Zealand Mint, the coin is issued for Niue. Each coin is housed in a classic presentation case, inside an illustrated shipper featuring an image of a Weeping Angel and accompanied by a numbered Certificate of Authenticity, which is displayed inside the case.
The coin's reverse depicts a Weeping Angel set against a dramatic colour background, surrounded by a finely struck border. The inscription DOCTOR WHO also features in the design. The coin's obverse depicts the Ian Rank-Broadley effigy of Her Majesty Queen Elizabeth II, the 2014 year-date and the monetary denomination.