Doctor Who Monster Series Sontaran Coin
Doctor Who Monster Series Sontaran Coin
The fifth and final coin in the Doctor Who Monsters series features the Sontarans, an aggressive clone-warrior race from Sontar. Known for their stocky build, greenish brown skin, and distinctive dome-shaped head, the Sontarans reproduce by cloning.
They were engaged in a war lasting thousands of years with the Rutans. In pursuit of an advantage, Commander Linx tried to invade 13th century Earth, until repelled by the Doctor. Later meetings with the Doctor saw the Sontarans invading the Time Lord home planet of Gallifrey, and trying to covert Earth's atmosphere into one suitable for warrior cloning.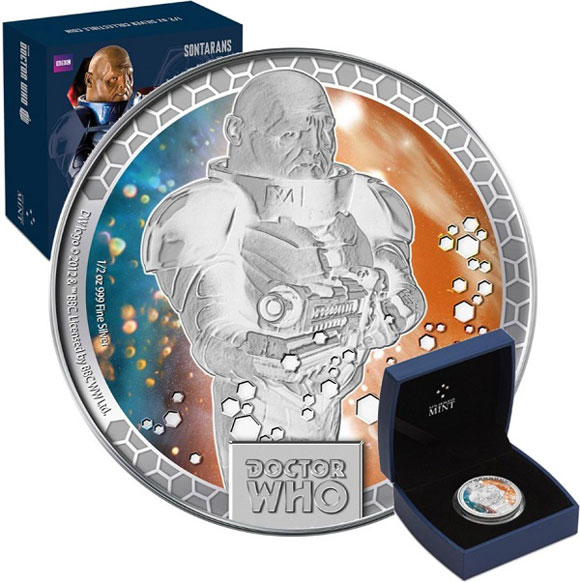 REVERSE
The coin's reverse depicts a Sontaran set against a dramatic colour background, surrounded by a finely struck border. The design also includes the inscription DOCTOR WHO.
OBVERSE
The coin is issued as legal tender of the South Pacific Island nation of Niue and features the Ian Rank-Broadley effigy of Her Majesty Queen Elizabeth II, the 2014 year-date and the monetary denomination on the coin's obverse.
LIMITED EDITION
Under official license of BBC Australia. No more than 5,000 of the Doctor Who Monsters – Sontarans 2014 1/2oz Silver Proof Coin will be issued for sale worldwide.
PACKAGING
Each coin is housed in a classic case, within an illustrated shipper featuring an image of a Sontaran, and is accompanied by a numbered Certificate of Authenticity.
MINTED-UK FREE FRAME OFFER
If you collect all five monster coins we will give you a free Nimbus frame to house your collection in. This will be sent free with the final coin in the series. Email us on info@minted-uk with DRWFRA in the header to claim this offer immediately after purchasing your first Dalek coin on line. You must use the same email address that you placed your order with. Frames are limited to the first 50 emails received.
All coins are available to order in the UK from www.minted-uk.com