Doctor Who Monster Series Silurian Coin
Doctor Who Monster Series Silurian Coin

About the coin:
The Doctor Who Monsters series is a limited mintage of 5000 coins only per release, and is crafted from ½ Ounce of fine silver (0.999). Each coin is sold with an individual presentation case, along with an individually numbered certificate of authenticity.
Doctor Who's cold-blooded rivals, reptilian humanoids known as the Silurians, feature on this 1/2oz silver coin.The Silurians were the dominant life-form on Earth before the evolution of humanity. Whilst honourable warriors, they often found co-habitation with humanity impossible, due to war-like factions on both sides. Each coin is meticulously struck from 1/2oz of 99.9% pure silver in superb proof quality.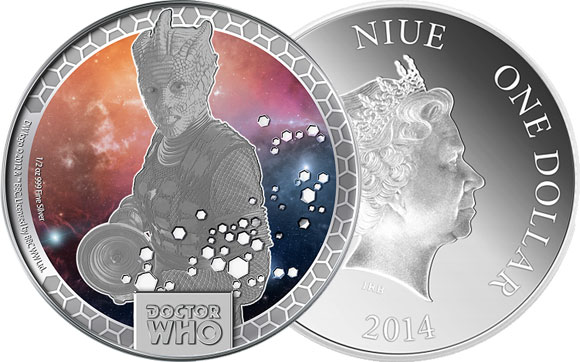 REVERSE
The coin's reverse depicts a Silurian set against a dramatic colour background, surrounded by a finely struck border. The design also includes the inscription DOCTOR WHO.
OBVERSE
The coin is issued as legal tender of the South Pacific Island nation of Niue and features the Ian Rank-Broadley effigy of Her Majesty Queen Elizabeth II, the 2014 year-date and the monetary denomination on the coin's obverse.
LIMITED EDITION
Under official license of BBC Australia. No more than 5,000 of the Doctor Who Monsters – Silurians 2014 1/2oz Silver Proof Coin will be issued for sale worldwide.
PACKAGING
Each coin is housed in a classic case, within an illustrated shipper featuring an image of a Silurian, and is accompanied by a numbered Certificate of Authenticity.
This coin is the fourth to be released in the new Doctor Who Monsters coin series.
All coins are available to order in the UK from www.minted-uk.com