Doctor Who Monster Series Cyberman Coin
Doctor Who Monster Series Cyberman Coin

About the coin:
The Doctor Who Monsters series is a limited mintage of 5000 coins only per release, and is crafted from ½ Ounce of fine silver (0.999). Each coin is sold with an individual presentation case, along with an individually numbered certificate of authenticity.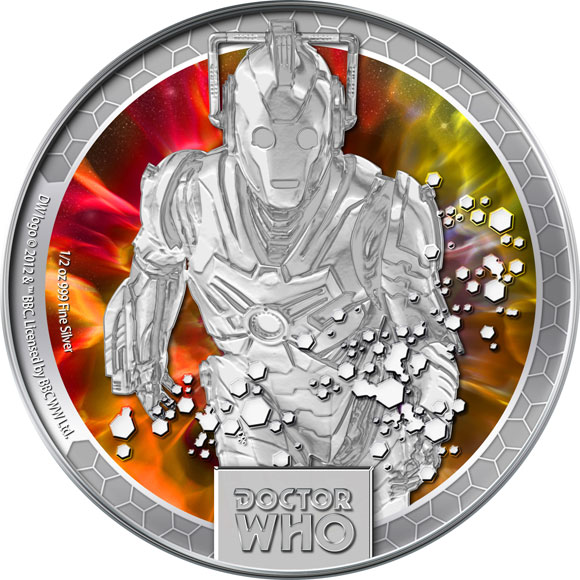 This coin is the Third to be released in the new Doctor Who Monsters coin series.
One of Doctor Who's most persistent enemies, the Cybermen, are brought to life on this coloured silver coin.
The cold and calculating Cybermen first appear in the cult series in 1966, and eventually became a race of conquerors who reproduced by taking other organic beings and forcibly changing them into Cybermen.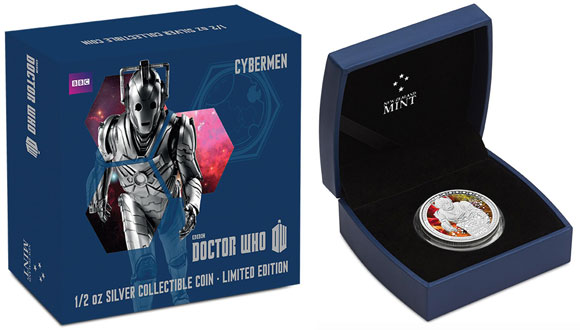 Minted UK are offering a free TARDIS blue nimbus frame to house your collection in if you collect all 5 coins in the MONSTERS in the series. This offer is limited to the first 50 claimants.
REVERSE
This coin face depicts an engraved Cyberman, set against a dramatic colour background, surrounded by a finely engraved border design.
OBVERSE
Each coin features the Ian Rank-Broadley effigy of Her Majesty Queen Elizabeth II. Country of Issue- Niue
PACKAGING
This Doctor Who Monsters Series – Cyeberman 1/2 oz Silver Coin is presented in a classic and sturdy Doctor Who coin case. The inner case sits inside a printed outer packaging, featuring an image of the Cyeberman. A Certificate of Authenticity is displayed inside the case.
All coins are available to order in the UK from www.minted-uk.com