Doctor Who Melamine Square Plate Set
Available to order from www.thinkgeek.com
If any tableware ever was, these plates were clearly meant for fish fingers and custard. Yep. We highly recommend against serving souffle on these. After all, where would you get the eggs?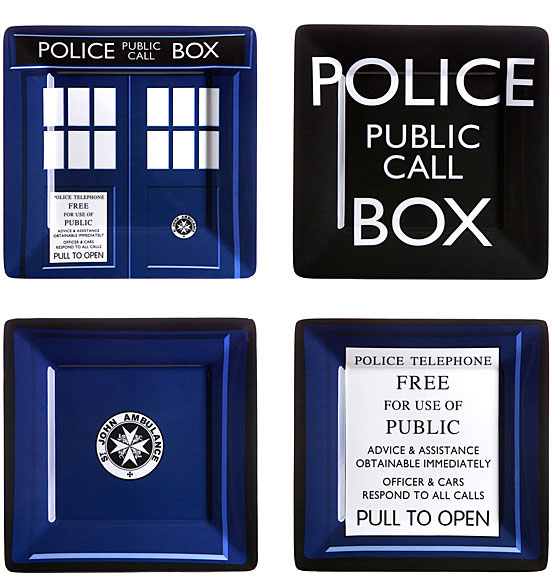 These plates are based on the designs on the TARDIS. We're thinking we might mount the St. John's Ambulance and the Pull to Open plates side by side on the wall like an art installation until dinnertime. Sturdy melamine so you don't have to worry about them shattering if there's a sudden Dalek kitchen invasion and you drop one. (We totally would not blame you for that.)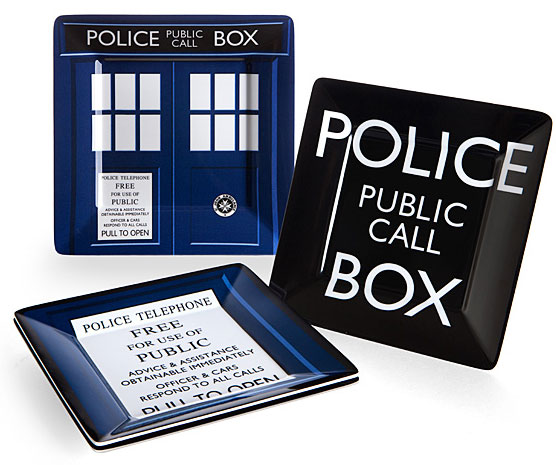 Product Specifications
Set of four medium-sized plates
Officially-licensed Doctor Who merchandise
Great for salad or lunch, particularly fish fingers and custard
Or a simple piece of celery
Materials: Melamine
Dimensions: 8″ square
Not suitable for microwave use
Dishwasher safe (top rack only)
Ages 6+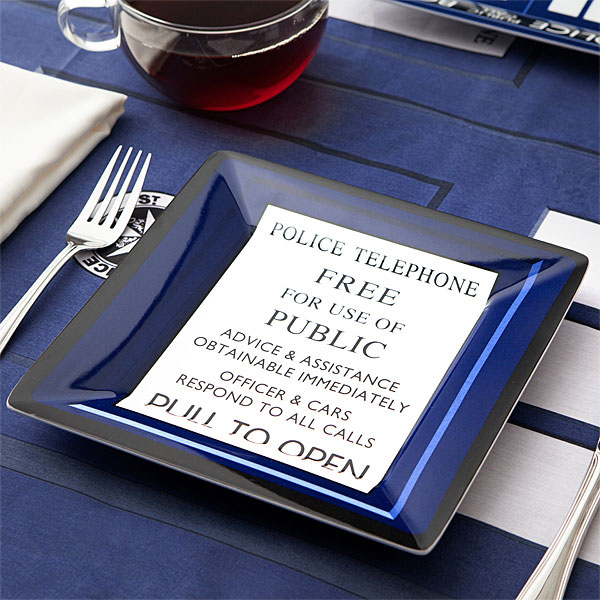 ---
Also Available…
Doctor Who Sonic Screwdriver Cutlery Set
Available to order from www.thinkgeek.com
Even the good Doctor needs a nice set of cutlery that's in keeping with his hard-earned image. That's where this Doctor Who Cutlery Set comes in. Dine like a Time Lord with your very own fork, knife, and spoon modeled after Doctor Who's Sonic Screwdriver!

The Doctor Who Sonic Screwdriver Cutlery Set comes with three utensils: a fork, a spoon, and a knife. The sonic screwdriver part is the handle and the metal part is the part that brings or prepares food for going into your mouth. With a Doctor Who Sonic Screwdriver Cutlery Set, all your meals will be adventures in time and space… and food.