Doctor Who Magazine issue 470
Doctor Who Magazine issue 470
You can subscribe to Doctor Who Magazine at www.uniquemagazines.co.uk. Worldwide shipping is available.
You can keep up to date with Doctor Who magazine, see larger images of this and other covers on their Facebook Page Here Or you can now follow them on twitter.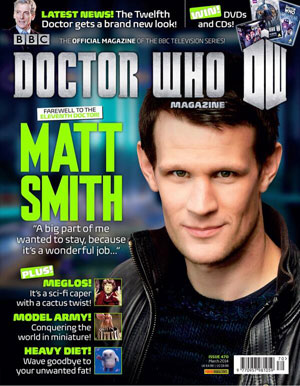 About Doctor Who Magazine
Doctor Who Monthly (DWM) Magazine is associated with the BBC science fiction show based in the UK called Doctor Who. The magazine started out as a weekly in 1979 but became a monthly magazine in 1990. The 'tie in' magazine DWM now holds the Guinness Book of World Records as the longest running based on a TV show publication.
Doctor Who Monthly magazine which is sanctioned by the BBC, managed to survive after BBC cancelled Doctor Who in 1989 which was not revived again until 2005. In the intervening years when there was no television series the publication ran new stories as comics. The magazine was originally targeted at children but has now widened its appeal to adults. As the official magazine of the BBC show the publication grew to feature more insider information on the show including interviews the actors and production staff.
In 2006 the magazine changed again as the BBC launched their own version of Doctor Who magazine known as Doctor Who Adventures in the form of comics with the focus again on the younger set. DWM survived and published its 400th issue in September 2008 and celebrated its 30th anniversary in October 2009.
DWM continues to run the Doctor Who comic strip. Famous artists and authors have contributed to the publication over the years including John Wagner, Pat Mills, Dave Gibbons, Mike McMahon, John Ridgway and Ian Edginton. In addition to the Doctor Who comic strip there are also other humorous sidebar comics entitled 'Doctor Who?'s' and 'Doctor Whoah!' both based on the original story.