Doctor Who Insider Magazine Issue 06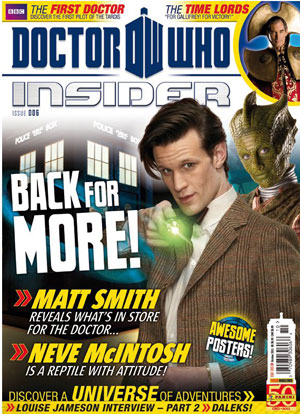 Doctor Who Insider Magazine Issue 06
Matt Smith is back for adventures new as the Eleventh Doctor and he tells Doctor Who Insider what we have to look forward to!
Insider talks exclusively to Neve McIntosh who has hidden beneath the scaly reptilian skin of three Silurians – sisters Alaya and Restac in The Hungry Earth/Cold Blood and the sword wielding Madame Vastra in A Good Man Goes to War.
Insider concludes its exclusive interview with Louise Jameson who played the Fourth Doctor's companion, Leela. Louise gives us her thoughts on each of the nine stories in which she starred and on her continued involvement with Doctor Who.
As the 1972 story Day of the Daleks is released on DVD, Insider discovers how the Third Doctor's first clash with his old enemies has been given a 21st Century makeover for a Special Edition version of the story.
Actor Michael Cochrane recalls his adventures with two different Doctors – as Lord Cranleigh in the two‐part historical story Black Orchid opposite Fifth Doctor, Peter Davison, and as the barking mad Redvers Fenn‐Cooper with Seventh Doctor, Sylvester McCoy in Ghost Light.
The moment of all moments takes its bow this issue as the Fourth Doctor asks himself "Do I have the right?" when the fate of the Daleks lies in his hands in Genesis of the Daleks.
The First Doctor kicks off a new series of Data Files as we examine the life and times of each Doctor and the companions who traveled with him.
The Doctor's own people, the once all‐powerful, but ultimately doomed Time Lords of Gallifrey are caught in the Scoop this issue.
In this special TARDIS themed edition, we present the winner and finalists of BBC AMERCIA's recent Where's the TARDIS? competition.
Previews of the latest Doctor Who merchandise, including Day of the Daleks on DVD, featuring an interview with Valentine Palmer who played the rebel leader, Monia. Authors James Goss and Darren Jones discuss Hounds and Horror as their talking books, The Hounds of Artemis and The Eye of the Jungle are published by AudioGO. Writer Jonathan Morris tells us how he approached writing for the Weeping Angels in his latest Doctor Who novel, Touched by an Angel. And David J Howe updates us on the latest Doctor Who merchandise including a new range of 8" Doctor Who figures and plush Daleks!
PLUS! The latest official news and a giant, double‐sided poster of the Eleventh Doctor with Madame Vastra and the First Doctor.