Doctor Who Insider Magazine issue 04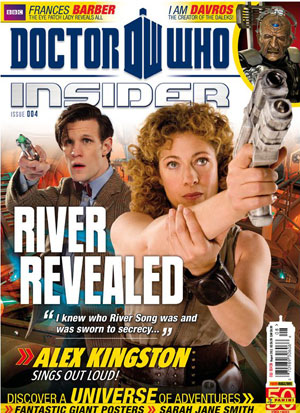 Doctor Who Insider Magazine issue 04
In this amazing new issue there's an exclusive interview, as Alex Kingston tells Insider about keeping one of Doctor Who's biggest secrets and playing the Doctor's mysterious 'other' woman.
Frances Barber talks exclusively to Doctor Who Insider about playing wicked Eye Patch Lady, Madame Kovarian and tells us why baddies are best.
To mark the recent loss of Elisabeth Sladen, we take a look at the amazing life and times of the character she created: Sarah Jane Smith.
Plus there's previews of the latest Doctor Who merchandise, including The Awakening and The Gunfighters on DVD; as we speak to stars of the 1996 Doctor Who TV movie Daphne Ashbrook and Yee Jee Tso about their new roles as UNIT officers in the Tales from the Vault audio drama; and authors James Goss and Steve Tribe tell us all about their new Dalek Handbook and we print an exclusive 'missing chapter' from this essential tome!