Doctor Who Insider Magazine Issue 05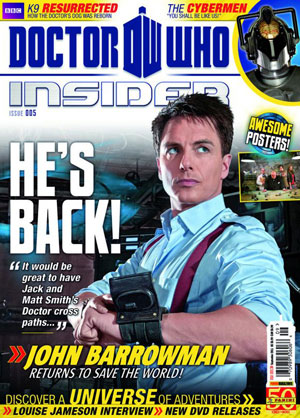 Doctor Who Insider Issue 5
Doctor Who spin off, Torchwood is back on our screens in the new Miracle Day miniseries. John Barrowman tells Insider that he couldn't be happier to once again be playing Captain Jack.
It's been over 30 years since Louise Jameson played scantily clad Leela opposite Fourth Doctor, Tom Baker, but the series is still part of her life, as she tells Insider in the first part of an exclusive interview.
Visual effects designer, Mike Tucker tells Insider how the Doctor's faithful robot dog, K9 was given a new lease of life in the Tenth Doctor adventure, School Reunion.
We discover how the fondly remembered Doctor Who novelizations of the past are being given a new lease of life as audio books from AudioGO and in brand new editions from BBC Books.
PLUS! The latest official news and a giant, double sided poster of Captain Jack and Victory of the Daleks.