Doctor Who HiFive Inventor Coding Kit

Available to order in the UK from www.shop.pimoroni.com

Available to order in the USA from www.amazon.com or www.bbcshop.com
BBC Learning and Tynker Collaborate on Coding for Kids with a Next-Generation Education Technology Mini-Computer and Coding for Kids Featuring the voice and star of the Thirteenth Doctor, Jodie Whittaker, the HiFive Inventor is a powerful Internet of Things programmable computer designed to teach kids to code New
BBC Learning, a division of BBC Studios and Tynker, a world-leading K-12creative coding platform have partnered to bring engaging next-generation coding education to students with the BBC Doctor Who HiFive Inventor, including coding lessons narrated by the star of the Thirteenth Doctor,Jodie Whittaker,on November 23, Doctor Who Day. With the rapid increase in Internet of Things (IoT) devices and smart consumer products, opportunities for bright young minds with coding skills are being created every day. The HiFive Inventor is a visually stunning IoT-enabled hand-shaped mini-computer designed to teach kids how to control robots or interface with IoT systems to investigate the world around them.The BBC HiFive Inventor will be available to order through BBC Shop, Amazon, Pimoroni, and other leading retailers on November 23. Learn more at www.HiFiveInventor.com
The HiFive Inventor will engage kids with its friendly hand-shaped form factor. With built-in Wi-Fi and Bluetooth technologies this reinforces the wireless data hand off between devices (or "HiFive") that will power 21st-century technology applications of computing for smart cities, intelligent factories, and enhanced wearable technology.
Students will be able to read data from the on-board suite of sensors and program on-device decisions to display results using the fun and colorful LED-matrix display. The HiFive Inventor is powered by a robust SiFive processor and comes with an illuminated USB cable, battery pack, and edge connectors to allow for expandability to a range of additional sensors and devices.The HiFive Inventor aims to impart building-block knowledge students can marry with their imagination and creativity to tackle global opportunities and challenges like environmental changes, health and wellness, and a host of other areas to positively impact lives. At a time, when many students are experiencing disruption to their education patterns, it is a key moment for all members of the global community -parents, teachers, and organizations –to work together to give all students the skills they need to participate in the future economy.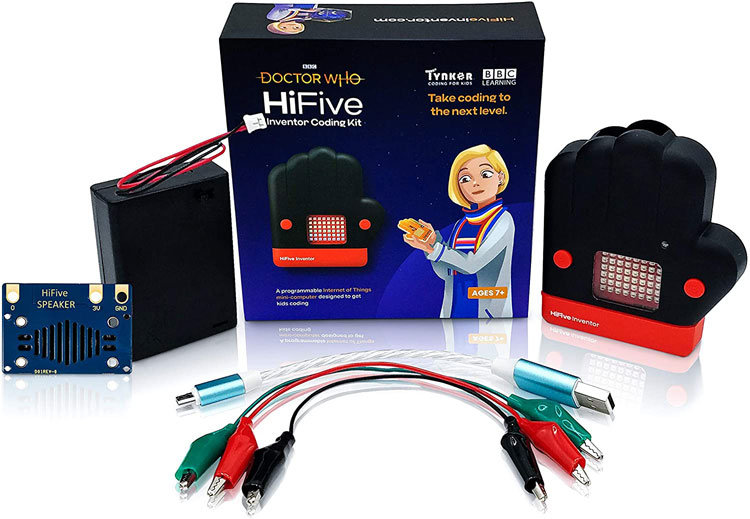 Enabled by the award-winning Tynker creative coding platform, the HiFive Inventor engages students to begin coding quickly in a self-paced and learner-driven environment. Tynker has vast experience and knowledge on how to engage kids to learn to code and has created hundreds of hours of content that has motivated millions to become makers of technology. Narrated by Jodie Whittaker, the Thirteenth Doctor,she takes students on intergalactic journeys and challenges like learning to code and pilot an alien spaceship, control a robot and program an exotic musical instrument. Like all Tynker courses, the BBC Doctor Who HiFive Inventor will teach kids essential skills as they are having fun.Younger students will begin their learning journey with the Tynker visual block coding and advanced students with Micropython.Doctor Who, is a BBC AMERICA co-production with BBC Studios, and is one of the longest-running action-adventure television series in the world spanning 56 years and winning over 100 awards.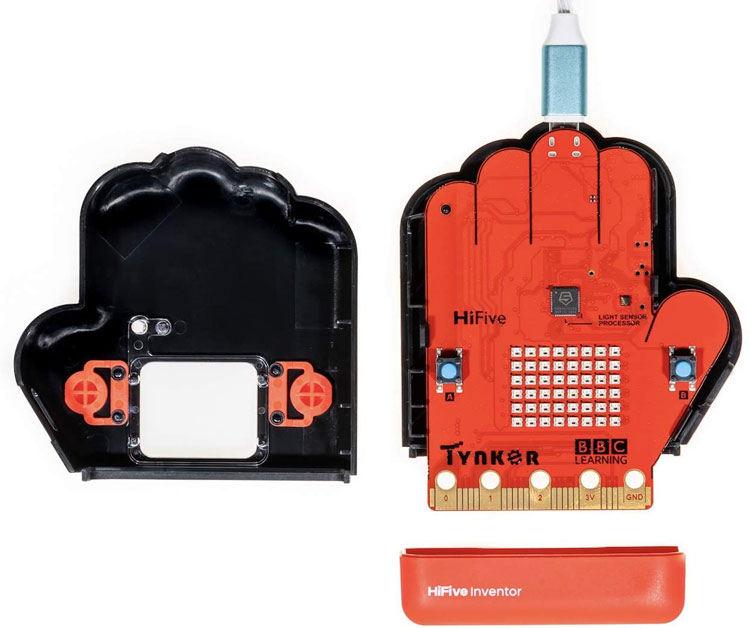 It premieres exclusively on BBC AMERICA with past seasons available to stream exclusively on HBO Max."At the heart of BBC Learning is a mission to use industry-leading story-telling to educate people worldwide," said Kara Iaconis, Global Head of BBC Learning. "This initiative builds upon the storied legacy of the BBC, and we are excited to bring cutting-edge education to students in a way that enables learning like never before. We look forward to working with organizations and companies globally to broaden this platform and to get kids coding." Krishna Vedati, CEO of Tynker stated, "Over the last eight years, Tynker has engaged 60 million kids worldwide in coding and we look to continue to build the next generation of innovators and problem solvers with this partnership.
The BBC Doctor WhoHi Five Inventor is perfectly designed to spark kids' curiosity in physical computing as they learn to program the Internet of Things using block-coding and Micro Python." Dr. Chris Lattner, President of Engineering and Product at SiFive says "Kids are the future, and my six-and eight-year-old love the BBC Doctor Who HiFive Inventor. It provides a great combination of block-based and real coding in a physical space that they can interact with and learn from. Coding is an incredible skill that allows us to build anything that you can imagine -apps, autonomous cars, and things we haven't dreamed up yet -and kids have the best imaginations. We at SiFive love working with BBC Learning and Tynker to help drive this amazing collaboration, and move the state of computer education forward."
For educational institutions or not-for-profits interested in bulk purchases, please contact schools@hifiveinventor.com