Doctor Who Geeki Tikis® Mugs from Beeline Creative
From www.actionfigureinsider.com
New York, NY – July 19, 2021 – BBC Studios, the distributor and licensing agent for the long-running action adventure series Doctor Who, is partnering with Beeline Creative, Hallmark, and Rittenhouse to bring brand new collectibles to fans in the U.S. later this year.
Suzy Raia, VP, Licensing, BBC Studios–Americas says: "Fans are the lifeblood of Doctor Who. Those who have been along for the ride for decades will enjoy adding these collectibles to their collections – and if you're just joining us, these are great gifts for the Doctor Who newbie in your life as well."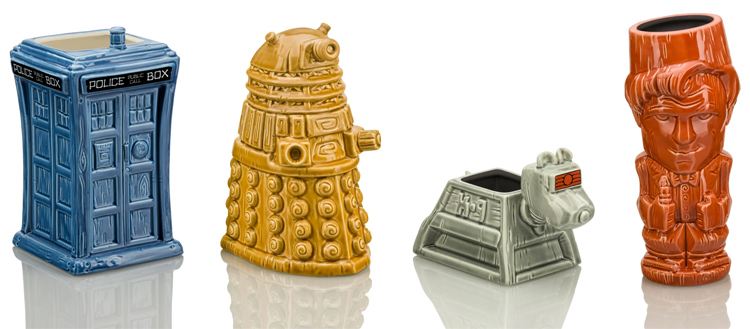 Spice up your kitchen cabinets or collector shelves with the brand new line of Doctor Who Geeki Tikis® mugs from Beeline Creative. Each Geeki Tikis® mug features beautifully sculpted detailing true to the character to which it is paying homage. Crafted from high-quality ceramic, each Geeki Tikis® mug is top-shelf dishwasher and microwave safe.
The newest Doctor Who collectibles from Beeline Creative include: K9, 11th Doctor, Tardis and Dalek along with a Doctor Who Mini Muglet 4-Pack Collector Case