Doctor Who DVD Files Issue 95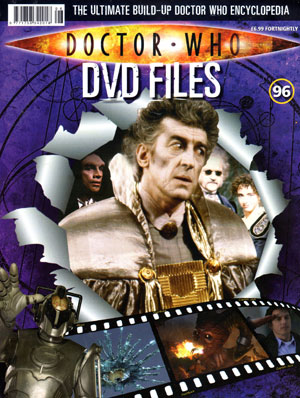 Doctor Who DVD Files Issue 95
This 95th edition of The DVD Files contains the classic story The Dalek Invasion of Earth
Available every fortnight, the magazine builds up into the ultimate Doctor Who Encyclopaedia."Doctor Who DVD Files is something unique – it's not just a chance to collect every episode of the series since the Doctor's return, the pull-apart magazine is incredibly ambitious.
Every fortnight you get pages packed with information and specially commissioned artwork.
It is currently planned to extend the DVD files to at least 110 issues.
In this issue…
THE DALEK INVASION OF EARTH
The England of the 22nd century belongs to the Daleks…
COLONEL WANTON
Meet Madame Kovarian's right-hand man.

ZANAK
This hollowed-out'pirate planet'plundered the galaxy!
DONNA NOBLE: TOP 10 MOMENTS
From temp to Time Lord, relive Donna's insane journey!
DOWN TO EARTH
A new era begins with Jon Pertwee starring as the Third Do
PAUL MCGANN
A look at the actor who played the Eighth Doctor
PROJECT INDIGO
What was the purpose of this top-secret UNIT experiment?
CYBER RAID
The Cybermen attack the home of Pete Tyler…
CAT SLAP!
Discover the prosthetics secrets of the Catkind.
For more information and how to subscribe go to the DVD Files website Here.
To order individual back issues click Here.