Doctor Who DVD Files Issue 92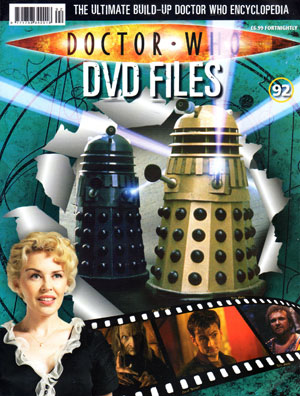 Doctor Who DVD Files Issue 92
This 92nd edition of The DVD Files contains the classic story Day of The Daleks
Available every fortnight, the magazine builds up into the ultimate Doctor Who Encyclopaedia."Doctor Who DVD Files is something unique – it's not just a chance to collect every episode of the series since the Doctor's return, the pull-apart magazine is incredibly ambitious.
Every fortnight you get pages packed with information and specially commissioned artwork.
It is currently planned to extend the DVD files to at least 110 issues.
In this issue…
DAY OF THE DALEKS
The Doctor's deadliest enemies control 22nd-century Earth!
NESTENE CONSCIOUSNESS
This plastic-loving alien menace attacked Earth three times.

STO
Your guide to the people and tech of this Earth-like world.
SARA KINGDOM
The Space Security Service agent didn't last long in the TARDIS.
DAVID TENNANT
A profile of the man behind the Tenth Doctor.


DOOMFINGER
Read all about the deadliest of the Carrionites
DALEKMANIA!
Find out how Doctor Who became a phenomenon in the 1960s
FIRE & GLITZ
Part two of our exclusive interview with actor Tony Selby
WORSHIP HIM!
The Ninth Doctor meets the Dalek Emperor.
For more information and how to subscribe go to the DVD Files website Here.
To order individual back issues click Here.