Doctor Who DVD Files Issue 91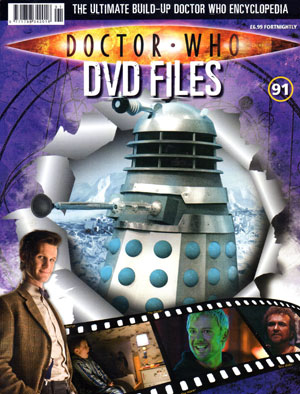 Doctor Who DVD Files Issue 91
This 91st edition of The DVD Files contains the classic story The Daleks
Available every fortnight, the magazine builds up into the ultimate Doctor Who Encyclopaedia."Doctor Who DVD Files is something unique – it's not just a chance to collect every episode of the series since the Doctor's return, the pull-apart magazine is incredibly ambitious.
Every fortnight you get pages packed with information and specially commissioned artwork.
It is currently planned to extend the DVD files to at least 110 issues.
In this issue…
THE DALEKS
The Doctor meets his deadliest enemies for the very first time.
OLD DALEKS
Meet the original metal monsters.
TARDIS KEY
Discover the secrets of the time machine's key.

SHAN SHEN
Visit this exotic home of a sinister fortune teller.
GEORGE
What was this little boy made of?
THE MASTER: TOP MOMENTS
Checkout our top 10 instances of Time Lord tyranny!
GLITZ & GLAMOUR
Actor Tony Selby talks to us about his time on the show.

VAMPIRE PLANET
The Fourth Doctor stumbled across this spooky world
ROSE TYLER: TOP MOMENTS
Relive the adventures of the Ninth and Tenth Doctors' best friend
AN ADVENTURE IN TIME AND SPACE
The first part of our new behind-the-scenes history of Doctor Who
For more information and how to subscribe go to the DVD Files website Here.
To order individual back issues click Here.